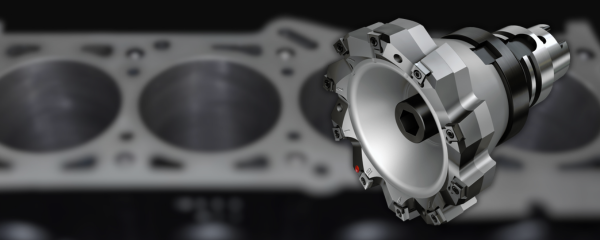 Stable and burr-free face milling, Sandvik's M5B90 is more like a rotary broach than a milling tool. It comprises a single, custom-made tooth containing several standard inserts. Its unique axial and radial positioning of the inserts allows chips to be cut efficiently without any burring. Burring is often unavoidable with conventional milling cutters due to the depth of cut. M5B90 inserts each remove only the depth of cut per insert, which is an effective radial step of 1/100 mm. As a result of this minute stock removal with each insert, M5B90 results in burr-free milling.
Advantages of M5B90
Outstanding surface finish – M5B90 includes only a small number of inserts, one of which is a wiper. This wiper works differently than the cutting inserts and ensures excellent surface quality on every cut, even at high feed rates.
High feed – Since the cutter body is custom-made to your specifications and the standard inserts are fixed, no adjustment or indexing is needed. M5B90 arrives ready to use without requiring any setup. This means higher feed rates, shorter cycle times and greater productivity.
Greatly extended tool life – The unique positioning of the inserts into the chip seat delivers a broaching-like effect during operations, resulting in burr-free milling. This prevents uneven tool wear and leads to a much superior tool life, even at high feed rates.
Low weight cutter body – M5B90 is constructed with either a steel body or an aluminum and steel body to meet hard-wearing, yet low weight requirements.
SUBSCRIBE to our Complimentary Publications: