LCD T56 Hour Meter Series Features Vibration Activation and Magnetic Mounting
ENM Company introduces its new LCD Vibration Activated Hour Meter. The HourMeter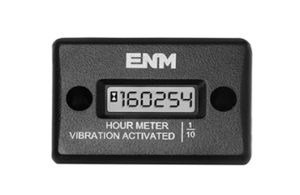 features 6-Digits with an hour glass icon as a running indicator. There is a jumper connector on the backside of the unit which can easily be removed in order to activate the hourmeter.
This meter can be installed anywhere on equipment with no special wiring connection or power source to operate. There is a magnet on the back for mounting on metal surface. The internal battery supplies all the necessary power for the gauge to operate for years of service. The total operating hours are always shown on the LCD display. This compact tamper proof meter is 100 % sealed with potting compound on the back side.
For more information and specifications on the T56 Hour Meter Series, visit their website.
About ENM Company
ENM Company extends its roots back to 1957 when it first began importing counters to the United States from a company in Enfield, England called English Numbering Machines. Today, ENM is its own corporation, manufacturing its vast array of counters, hour meters, adapters and digital products right here in Chicago, Illinois. ENM is proud to have a product line that covers almost any counting or timing application. With ENM as a supplier, you will have the highest quality ,quickest delivery, and the expertise of over 60 years of experience as an OEM supplier of counters and hour meters on your side.
For more information, visit enmco.com