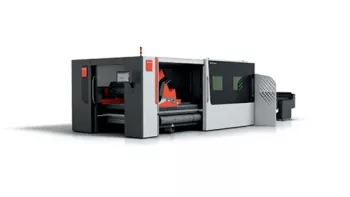 The Bystronic ByCut Eco 3015 robust laser cutting system for successful sheet metal processing offers you everything for getting started with laser cutting sheet metal: 
Simplicity
High performance
Quality and consistency
Potential for automation
An attractive price
A top-quality laser cutting system with an attractive price-performance ratio, ByCut Eco 3015 is designed for functionality and is easy to operate. ByCut Eco offers outstanding cutting performance for a broad range of material types and thicknesses at an advantageous price. This enables you to take smart first steps in fiber laser cutting with complete ease.
Clever software. Intuitive operation.
The ByCut Eco 3015 uses BySoft Cell Control Cut software for programming. Among other things, this helps with arranging the shapes for parts to be cut, in order to minimize material consumption. This software offers you support when creating cutting plans and setting parameters. ByCut Eco 3015 operates on a 21.5-inch touchscreen as easily as your smartphone.
High Laser Power: A high laser power increases productivity, improves cutting quality, and allows even thicker sheet metal to be machined economically. An essential component for high-power cutting is the right cutting head.
Intelligent Cutting Process: Increase your productivity. The cutting process is stable thanks to comprehensive process monitoring.
Precision & Speed: Using the Bystronic cutting head, you can machine thin and thick materials with the highest quality. The integrated changing system also allows fast maintenance of the protective glass.
MixGas: With a mixture of nitrogen and oxygen, we combine the benefits of each cutting method: excellent cutting quality with pure oxygen and the high cutting speeds of pure nitrogen.
The ByCut Eco represents simplicity: Both long-time and less-experienced users find their way immediately. A high degree of operating comfort and intuitive process control enables a quick start in laser cutting sheet metal.
We maintain and repair your Bystronic systems. Optionally, you can obtain upgrades to retrofit your system or accessories to fine-tune your fiber laser machines.
Stop by our Booth A1326 during FABTECH for ongoing demonstrations of the NEW ByCut Eco and other press brakes in the Bystronic product line.
Bystronic. Your best choice. 
SUBSCRIBE to our Complimentary Publications: