New Tiger·tec® Silver grade WSM45X from Walter delivers high temperature and wear resistance, toughness and hardness.
The unique Al2O3 coating and high-performance substrate lets inserts made from Walter's new grade boost performance by up to 67%.
Walter has introduced the Tiger·tec® Silver grade WSM45X, creating an indexable inserts with high temperature resistance, improved wear resistance, outstanding toughness, and exceptional hardness. These key features of inserts in the new Tiger·tec® Silver grade WSM45X can boost performance by up to 67% over comparable tools.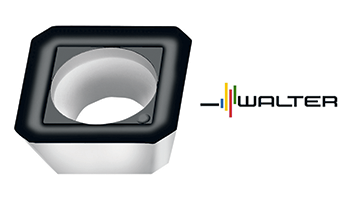 The special Tiger·tec® Silver surface treatment coupled with Walter's high-performance substrate ensure maximum process reliability when working with materials that have difficult cutting properties, such as titanium alloys.
The new grade's unique coating enables users to increase their machining productivity – especially when using materials that are difficult to cut. The surfaces are also extremely smooth, which significantly reduce edge build up. In addition, the two-tone Tiger·tec® Silver coating allows users to identify wear quickly and thus make sure that all cutting edges are used efficiently. 
The indexable inserts in the Tiger·tec® Silver grade WSM45X are available for all popular Xtra·tec® and new M4000 face and shoulder mills, and the Walter F2334 copy milling cutter. WSM45X is suited to machining stainless steels (ISO M) and difficult-to-cut materials (ISO S). Typical components include exhaust-gas turbochargers, turbine blades and titanium frames for use in the aerospace industry.
About Walter:
Walter, a global leader in the metalworking industry with over 90 years of experience in precision cutting tools for milling, drilling, turning, boring and specialized tools, helps customers improve process reliability and increase productivity. With Regional Headquarters in Waukesha, WI, Walter markets its competence brands Walter Valenite, Walter Titex, Walter Prototyp and Walter Multiply through a strong network of distributors and field engineers across subsidiaries in the USA, Canada, Mexico, Brazil and Argentina.
For more information, visit www.walter-tools.com.