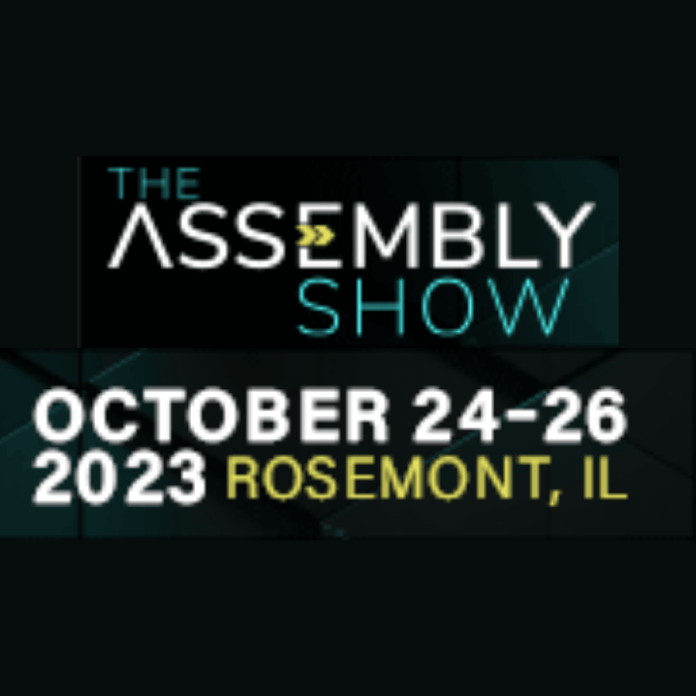 Who: Epson Robots, the #1 SCARA robot manufacturer in the world, will be demonstrating its robotic automation solutions and unveiling new SCARA robots at The Assembly Show in booth #1231.
What: With the ongoing demand of automation across manufacturing industries, suppliers, buyers and users are actively seeking assembly technology, equipment and products that deliver peak performance. Meeting the demand for high-end automation, Epson will debut new high power density SCARA robots with GYROPLUS® Technology, featuring high payloads, from 4 to 20 kg and reaching up to 1,000 mm, supporting Cleanroom, ESD, and IP65 Washdown environments in a small form factor. The robots feature ultra-high precision, flexibility and integrated SafeSense™ technology to help improve productivity for the most challenging applications.
Additionally, Assembly show attendees will have the opportunity to experience live product demonstrations of their 6-Axis robots, integrated Vision Guide and IntelliFlex™ Parts Feeding System and RC+® Industrial Automation Development Software, ideal solutions for the medical device, electronics and consumer packaged goods markets. At Assembly, Epson Robots automation speaking session and booth demos will include:
Speaking Engagement: "Introduction to Parts Feeding – Parts Singulation for Robot Automation" – Scott Marsic, group product manager, Epson Robots, will provide insight into the process of integrating parts feeding into assembly applications requiring part assembly. With over four decades of automation experience, Epson Robots will share its expertise, explain the various feeder types available in the market and guide participants through key considerations for implementation. The session will take place on Wednesday, Oct. 25 from 11:45 – 12:15 p.m. CT in Theater #1.
Print and Apply Labeling – Epson will showcase two full-color print-and-apply labeling solutions: One will feature a ColorWorks® CW-C6000P paired with an Epson VT6L 6-Axis robot and the other will feature a ColorWorks CW-C6000P paired with a General Data PAC5 applicator. These solutions offer label placement flexibility and precision and are ideal for product ID and package labeling. The VT6L All-in-One 6-Axis robot is available in Standard, Cleanroom and IP67. It features a controller built into the base and can be wall, ceiling or table mounted.
High-Performance Parts-Feeding Solution – Experience parts feeding made simple with an integrated solution powered by Epson GX robots, IntelliFlex software and Vision Guide. Featuring a single IntelliFlex 530 feeder, this demo will showcase effortless pick and place operation and ultimate flexibility of the system. The IntelliFlex lineup has four feeder sizes and can handle a variety of parts from 3mm to 150mm with optional anti-roll, anti-stick and medical grade tray configurations.
Robot Programming Made Simple – Offering a powerful set of tools and features to redefine automation efficiency, Epson RC+ Industrial Automation Development Software allows all components to interface with one another in a single environment. This software is ideal for both novice and advanced users and makes learning programming language simple.
When: The Assembly Show will take place Tuesday, Oct. 24 from 9 a.m. to 7 p.m., Wednesday Oct. 25 from 9 a.m. to 5 p.m. and Thursday Oct. 26 from 9 a.m. to 2 p.m. CT. Marsic's "Introduction to Parts Feeding – Parts Singulation for Robot Automation" presentation will take place on Wednesday, Oct. 25 from 11:45 – 12:15 p.m. CT in Theater #1.
Where: Donald E. Stephens Convention Center in Rosemont, IL.; Epson booth #1231
Why: Epson is dedicated to helping both new and experienced automation professionals succeed by providing essential information and education and by delivering the latest robot technologies and innovations to meet their factory automation needs.
About Epson Robots
Epson Robots is a global leader in PC-controlled precision factory automation, with well over 150,000 units sold worldwide1 and a product line of hundreds of models of easy-to-use SCARA and 6-Axis robots based on a common PC-based platform. Building on four decades of experience, Epson Robots delivers robots for precision assembly and material handling applications in the aerospace, appliance, automotive, biotechnology, consumer product, electronics, food processing, medical device, pharmaceutical, plastics, semiconductor, and telecommunication industries.
About Epson
Epson is a global technology leader whose philosophy of efficient, compact and precise innovation enriches lives and helps create a better world. The company is focused on solving societal issues through innovations in home and office printing, commercial and industrial printing, manufacturing, visual and lifestyle. Epson's goal is to become carbon negative and eliminate use of exhaustible underground resources such as oil and metal by 2050.
SUBSCRIBE to our Complimentary Publications: