Enhanced Mahr Federal Multimar 36 B  Indicator Gage Offers More Measurement Capability
T-Plate and V-Plate styles in two sizes measure parts up to 9.5″ and as small as 0.25″ right on the shop floor
36 B ID/OD wider range of contacts and anvils enable measurement of pitch, gear diameters, threads, taper diameters and recesses
Accepts Mahr Integrated Wireless Indicator for wireless data transmission
Long a shop floor standard for precision ID and OD measurements, Mahr Federal's Multimar 36 B Indicator Gage has been enhanced to accept a wider range of contacts and anvils, enabling measurement of pitch, gear diameters, threads, taper diameters and recesses, and more. It can also accept a Mahr Integrated Wireless Indicator for wireless data transmission. Handy and economical, the Multimar 36 B is available in both T-Plate and V-Plate styles and in two sizes. The 36 B ID/OD Indicator Gage can measure inside diameters from 0.75″ to 9″ and outside diameters from 0.25″ to 9.5″, and can accept any indicator with an 8 mm mounting shank.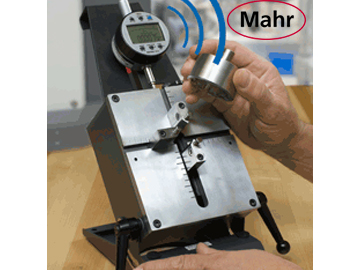 "The 36 B is a real workhorse," said George Schuetz, Director of Precision Gages for Mahr Federal. "Fast, accurate and easy to operate, we've now improved the basic design to accept many of the contacts and anvils from our Multimar 844 T universal gage, making the 36 B even more versatile than ever before. Plus, by combining the gage with a Mahr Indicator with Integrated Wireless, you can transmit your measurement results wirelessly to your data collection system."
The T-Plate configuration on the 36 B gives a diameter reading directly across the diameter (a third contact may be used as a side-stop or centralizer), while the V-Plate configuration is self-centralizing. Frequently used to inspect parts with odd number lobing conditions, the three "V" jaws measure the distance between the sensitive contact and the chord formed by the two reference contacts. This measurement bears a direct relationship to the diameter, with compensation made by a special ratio indicator so diameter is read directly.
The 36 B ID/OD Indicator Gage features adjustable contact retraction, which allows for the measurement of grooves and races. Frictionless reed-spring motion transfer facilitates repeatability, and gaging pressure is adjustable from 0-35 N/0-8 lb.
The gage can be positioned at any angle from horizontal to vertical, and simply reversing the top-plates changes the measurement from ID to OD. The 36 B ID/OD Indicator Gage is supplied with JW-9 jaws, but special spherical contacts are available in steel and tungsten carbide. Doughnut shaped contacts as well as TC Ball and Pie Plate contacts are also available.
About Mahr Federal Inc.
Mahr Federal Inc., a member of the Mahr Group, has over 150 years of experience providing dimensional measurement solutions to fit customer application needs. The company manufactures and markets a wide variety of dimensional metrology equipment, from simple and easy-to-use handheld gages to technically advanced measurement systems for form, contour, surface finish and length. Mahr Federal is also well known as a producer of custom-designed gages and a provider of calibration and contract measurement services. Mahr Federal's calibration laboratories are accredited to ISO/IEC 17025:2005 NVLAP Lab Code 200605-0 (see our Scope of Accreditation for accredited calibration processes).
For more information visit www.mahr.com.