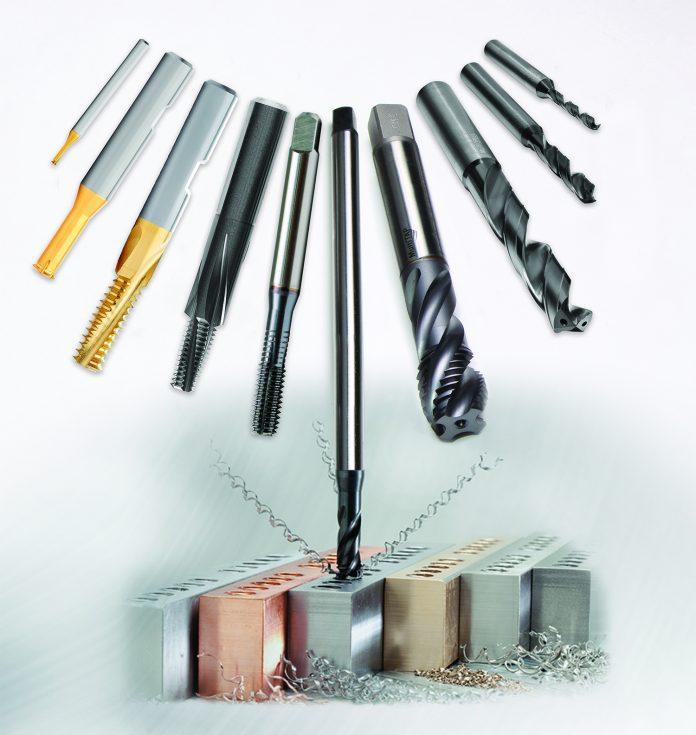 EMUGE-FRANKEN USA, a leading manufacturer of high-performance taps, thread mills, drills, end mills and other rotary tools, has introduced its MultiTOOL program which includes versatile, affordable high-quality taps, thread mills and drills that are ideal for a wide range of materials in high-mix, low volume job shop applications.
"We are pleased to offer our customers a comprehensive theadmaking solution with our new MultiTOOL program," said Marlon Blandon, Product Manager, Drills, Thread Milling. "As the innovator of the industry-leading MultiTAP, EMUGE-FRANKEN has expanded its successful multi-purpose tool concept to also include new thread mills and drills."
The EMUGE MultiTOOL program includes the following products:
MultiTAP™ tapping solution ranges from cut taps to form taps in different coatings, in addition to taps with extended lengths. Versatile MultiTAP features an innovative geometric design and a special base material and surface treatment, which allows it to cut a wide range of materials such as carbon steel, steel alloys, stainless steel, aluminum, cast iron, copper, brass and bronze. The taps are uniquely designed to produce threads within both 2B and 3B classes of fit, eliminating the guesswork required when calculating H-limits. MultiTAP significantly improves thread quality and boosts output, while reducing production costs.
New MultiTHREAD™ MILL is an ideal general-purpose, cost-effective thread milling solution for job shops where part applications and materials frequently change. The new thread mills are designed to cut a wide range of standard materials very efficiently. MultiTHREAD features a proprietary TIN T21 coating developed by EMUGE, and is offered in a complete size and thread style range in either Full Form or Single Plane types. Only one tool is required for both through and blind holes, as well as for right or left-hand threads. The thread mills enable shops to boost their production and save on costs, due to reducing the number of tools needed.
New MultiDRILL™ features affordable, high-quality solid carbide 3XD and 5XD drills for manufacturers that have limited quantity production runs or operate in a job shop environment with many materials. MultiDRILL is made of a unique sub-micro grain carbide grade that is harder than conventional carbide grades for drilling, yet it retains the ability to withstand shock and chipping. The new drills feature advanced TIALN-T63 coating utilizing nano-layer technology with surface hardness exceeding standard TIALN-based coatings, for reduced friction at high temperatures. The double margin designed drills are self-centering and feature concave cutting edges for higher chip shearing ability, providing longer tool life and productivity.
About EMUGE-FRANKEN
For over 100 years, the German company group EMUGE-FRANKEN has been one of the world's leading manufacturers of precision tools for thread cutting, drilling, gaging, clamping, and milling. With 1,950 employees, EMUGE-FRANKEN offers an innovative product program with 40,000 in-stock items and a multiple of that with customer-specific tools. The product range focuses on applications in the automotive industry, power plants, aerospace industry and medical technology as well as general manufacturing. As a complete system supplier for the machining industry, EMUGE-FRANKEN has branch offices or sales partners in 52 countries. EMUGE-FRANKEN USA is a wholly-owned subsidiary of the 1,950 employee German company EMUGE-Werk Richard Glimpel GmbH & Co. KG (Lauf, Germany). EMUGE-FRANKEN USA offers end-user technical support through a network of in-the-field engineers and in-house product specialists, all with extensive tooling and application experience. Over 10,000 types of cutting tools and accessories are stocked in the company's U.S. and Canadian Headquarters located in West Boylston, MA, U.S.A. The recently expanded 50,000+ sq. ft. facility includes a technology center with a machining and tooling demonstration showroom and classroom, tool manufacturing and coating, reconditioning, warehouse, sales, support, and administrative offices.
SUBSCRIBE to our Complimentary Publications: