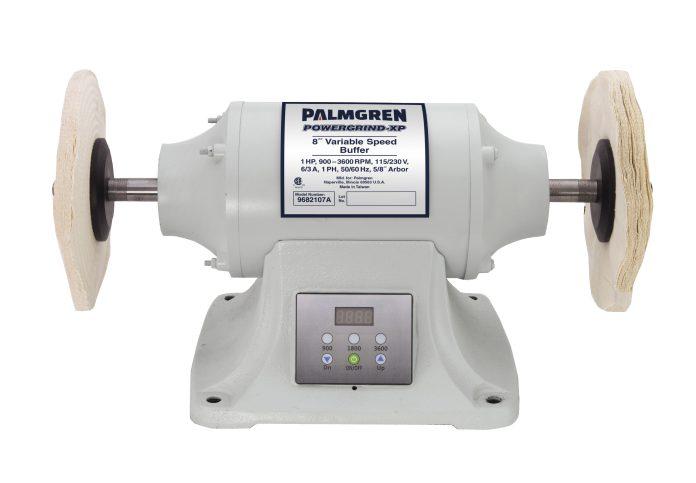 The line of Deluxe Variable Speed Buffers from Palmgren delivers power, precision and versatility to any type of finishing project. At a maximum rpm, the buffers can easily tackle blending, polishing and surface conditioning applications. At the lower rpm, they can handle the more delicate finishing, polishing buffing and surface finish operations. The buffers are equipped with the latest technology variable speed inverter to deliver a broad range of continuous speeds regardless of the application. A heavy-duty motor provides additional torque as well as power at all speeds. To minimize vibration and ensure a smooth operation, the buffers feature balanced rotors and sealed bearings. The 100-year-old Palmgren is a C.H. Hanson® brand.
About Palmgren
Since 1919, Palmgren has been the top brand for manufacturing metalworking machinery for professionals and first-time machinists. The company was founded by Clarence Palmgren, who was acclaimed for his achievements and contributions to the metalworking industry through his innovative designs and patents. He is credited with designing and manufacturing the first machine vises, cross slide, and rotary tables that significantly increased efficiency and productivity with metalworking manufacturers worldwide.
Palmgren's early work created the foundation of innovation and quality that the company's brand is built upon and follows today. So, it is no surprise that Palmgren continues to be a market leader not only with our vises and positioning tables but across our whole expanded metalworking product offering.
The company delivers tools for the generations and solutions that solve the needs of the metalworking industry. Recognizing the value of the brand and the need for retailer supplier consolidation, C.H. Hanson acquired Palmgren Steel Products in October 2013. Professionals from all industries throughout the world rely on Palmgren. We are committed to helping our users Embrace the Work™ through our products and exceptional service at every step of every business relationship.
SUBSCRIBE to our Complimentary Publications: