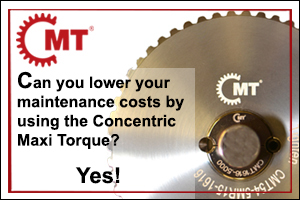 How the Concentric Maxi Torque System Works
Pulley and bushing are sold together as an assembly. There is a mechanical shrink fit affected by using a setscrew, axial to the shaft, as a lever to force the tapered bushing into the matching taper in the hub. As the lever forces the two tapers together, the slot in the bushing is compressed, thus clamping the pulley to the shaft with a mechanical shrink fit. That same set screw is removed and used on the opposite hole, which acts as a jack, releasing the shrink fit and allowing for removal or re-positioning. That is how the The Concentric Maxi Torque system works.
Innovative. The Concentric Maxi Torque system is a keyless hub to shaft connection designed and developed specifically to suit the needs of small shafts and drive components in the power transmission and motion control markets. This patented system enables customers to easily phase, install, adjust and remove drive components, all while offering precise component positioning.
Concentric. With radial runout less than .001/.26mm as assembled, the Concentric Maxi Torque system enables customers to attain higher drive speeds, reduce unwanted vibration and maintains concentricity.
Reliable. The mechanical shrink provides torque capacity which can exceed that of two setscrews arranged perpendicular to the shaft, offering the most reliable connection in the industry.
Economical. The compact design eliminates the need for the extended hubs used to accommodate setscrews, allowing motion systems engineers to design drives which are lighter and use less space. Additionally, the shaft damage and added expense of shaft modification often associated with the use of setscrews or pins is eliminated.
CMT maintains inventory offering same day shipping for timing pulleys with the Concentric Maxi Torque bushing system.
Custom Machine & Tool Co., Inc. has been a US manufacturer of precision timing pulleys, drive systems and components for the motion control and power transmission markets since 1964. In addition to the Concentric Maxi Torque connection system, our product offering contains all types of popular timing pulley tooth designs.
Learn More about the Concentric Maxi Torque System
About CMT
CMT offers the Guaranteed Shipment Program for timing pulley stock for 5 pieces and less shipped within 72 hours or we pay the UPS ground freight charges.* We provide first-class timing pulley stock in a variety of materials quicker than anyone else in the business. CMT also carries a complete line of matching flanges and timing belts to provide you with a one-stop solution.
Custom Machine & Tool Co., Inc.
301 Winter Street, Hanover, MA 02339 USA
P: ​(781) 924-1003 or (800) 355-5949
F: (781) 924-5154 or (800) 355-4490