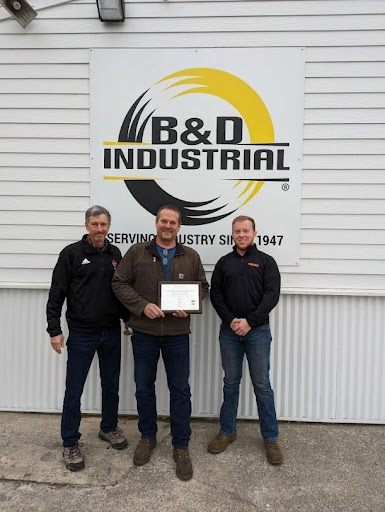 B&D Industrial is excited to achieve Timken Bearing Certified Shop "Platinum" level at its site in Tacoma, WA alongside its current "Gold" statuses held in Savannah, GA, Macon, GA, and West Monroe, LA. In addition to thorough training, the "Platinum" audit process includes meticulous pre-and post-audit evaluations. Timken's Bearing Certified designation verifies that facilities adhere to appropriate practices regarding bearing maintenance.
According to Timken, the "Timken Bearing Certified" designation demonstrates to customers that a shop abides by the highest standards in bearing service for maintenance organizations and service shops. The Bearing Certified designation confirms that a shop has solid processes and the appropriate equipment in place to ensure proper bearing maintenance.
B&D Industrial's Tacoma Site achieved near-perfect marks in bearing storage, handling tools and area, inspection area, removal, and installation processes. Every process is critical in getting the highest performance and life out of bearings.
Mike Rine, SVP of Operations, added "We congratulate our Tacoma team on achieving Timken "Platinum" (highest level) certification with a score of 96. There are very few facilities that reach this level. We are committed to providing the most reliable products and services to all our customers. Timken's rigorous audit requirements enhance our ability to improve continuously. We appreciate the ongoing support received from Timken."
B&D Industrial specializes in gearbox and equipment repair for heavy manufacturing companies across North America. Along with numerous field service teams, the company provides repair services at highly specialized shops located in West Monroe, Louisiana; Macon, GA; Savannah, Georgia, and Tacoma, Washington.
About B&D Industrial
Founded in 1947, B&D Industrial is an applications-driven, independent distributor and service provider. It provides solutions to OEM's and companies with MRO and automation needs in both heavy and light manufacturing. B&D Industrial is operates over 30 facilities in Georgia, Florida,
Tennessee, Louisiana, North Carolina, South Carolina, and Washington. The company's portfolio includes Washington-based Western Machine Works, Inc., Scale Systems, and e-commerce enterprise, Industrial Control Direct. B&D Industrial is headquartered in Macon, Georgia.