The BOA-408I, from Bore Repair Systems Inc., provides solution for repairing worn pivot points on all types and sizes of heavy equipment and attachments.
The new BOA-408i automatic bore welding system is used for the repair of the numerous worn pivot points found on all types and sizes of heavy equipment and attachments.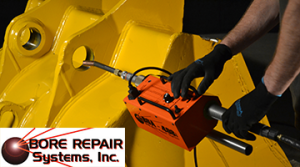 Designed specifically for mechanics or operators who must keep their equipment up and running in the field, it is simple to set up, easy to use, and works with existing MIG welding equipment. The BOA-408i attaches to existing line boring equipment, or is available with an optional, fully integrated line boring system which allows one-step setup and easy transition between bore welding and machining operations. All equipment comes with rugged, aluminum diamond plate carry cases and free factory training.
The BOA-408i series machine is the bore welder of choice for anyone performing bore repairs on holes up to 48″ (1.2m) in diameter. Typical users are repairing earth moving machinery, and must have reliable weld bead placement EVERY TIME, with no variations such as those that occur with unreliable ELECTRICAL STEP bore welders.  Weld bead placement, if not consistent, results in improper bead to bead and/or bead to base material fusion. Simply put, if this occurs, you must start the job all over again.
The pass-through drive system featured on the multi-patented and patent-pending BOA bore welder means that the bore welder drive can be easily centered (independent of the entire welding gun assembly) by using traditional boring bar centering methods. Old-fashioned systems do not offer such flexibility, and actually require you to assemble the welding guns and extension shafts and re-feed the welding wire nearly every time you make a bore to bore transition.
Contact Bore Repair Systems, Inc.
PO Box 59
Alstead, NH 03602
Sales cont: Erik Esslinger
Phone: 603-835-2409
Website: www.borerepair.com