Autodesk Confirms OPEN MIND Compatibility
hyperMILL® 2016.2 certified for Autodesk Inventor 2017 software
hyperMILL®, the CAM/CAD solution from OPEN MIND Technologies AG has now been certified by Autodesk Inc. This means that an integrated and fully autonomous workflow is ensured when converting files from Inventor 2017 software to hyperMILL®.This makes transition from Inventor through the hyperMILL® CAM system and on to the CNC machine tool completely seamless.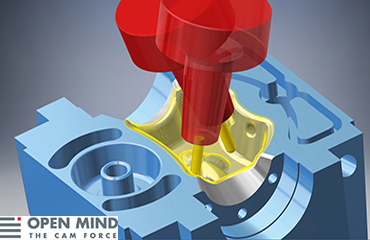 The necessary data association was confirmed following a rigorous test procedure for the latest edition ofhyperMILL®, version 2016.2. This was fully affirmed on the same database to increase the common access, speed and efficiency. This new authentication ensures that errors are avoided and the workload for the end users is reduced overall. The big advantage for customers is the changes in the CAD data that leads to an automatic update of the CAM operation. This is particularly convenient for Inventor users as it allows them to invoke the entire CAM functionality of hyperMILL® within this familiar CAD interface.
About OPEN MIND Technologies AG
OPEN MIND is one of the world's most sought-after developers of powerful CAM solutions for machine and controller-independent programming.
OPEN MIND develops optimized CAM solutions that include a high number of innovative features not available elsewhere to deliver significantly higher performance in both programming and machining. Strategies such as 2D, 3D as well as 5axis milling/mill turning, and machining operations like HSC and HPC are efficiently built into the hyperMILL® CAM system. hyperMILL® provides the maximum possible benefits to customers thanks to its full compatibility with all current CAD solutions and extensive programming automation.
OPEN MIND strives to be the best and most innovative CAM/CAD manufacturer in the world, helping it become one of the top five in the CAM/CAD industry according to the NC Market Analysis Report 2016 compiled by CIMdata. The CAM/CAD solutions of OPEN MIND fulfil the highest demands in the automotive, tool and mould manufacturing, production machining, medical, job shops, energy and aerospace industries. OPEN MIND is represented in all key markets in Asia, Europe and America, and is a Mensch und Maschine company.
You can find more information at www.openmind-tech.com.