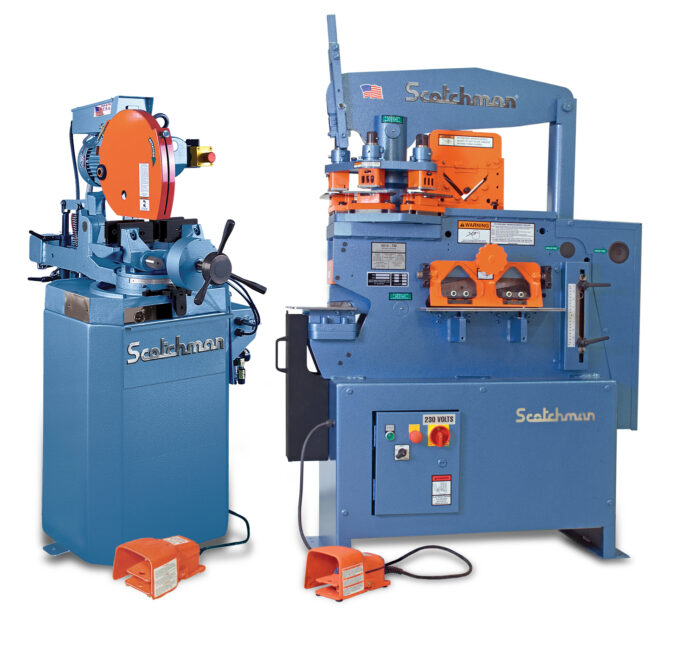 A complete range of general to heavy-duty metal fabrication machinery from Scotchman Industries will be presented at booth #1420. Live equipment demonstrations will showcase the features and benefits which can be achieved with these Scotchman products.
Ironworkers to be demonstrated include Scotchman's 5014-ET Ironworker, the world's first and only 50-ton hydraulic ironworker with a revolving 3-station turret punch. The innovative revolving turret accepts up to three different punch sizes that can be changed in seconds reducing set-up time and increasing productivity. This hydraulic ironworker features 50 tons of pressure and can punch a 13/16″ hole in a 3/4″ plate and comes standard with a 4" angle shear, 14" flat bar shear, and rectangle notcher. See Ironworker models from 50 ton to 90 ton at the show.
The Cold Saws to be demonstrate include a CPO 350-PK manual saw and the CPO 350-PKPD with semi-automatic operation. The CPO models are industrial grade circular cold saws with mitering capabilities of 135° with a miter locking device allowing for quick & accurate stop setting at 45°, 90° and 135°. These saws have a 2-speed motor and utilize up to a 14" diameter blade giving it a 4-7/8" OD round capacity which consistently produces burr-free, high-quality cuts; backed by a 3-Year Warranty.
Additional equipment and tooling to be shown include:
Pipe Notcher & Rod Shear Tooling for Ironworkers
Razorgage Digital Measuring System
2022 marks Scotchman Industries' 55th year of manufacturing in America. The complete line of products includes: Hydraulic Ironworkers, Circular Cold Saws, Band Saws, Tube & Pipe Notcher/Grinders, Hydraulic Presses, Manual Measuring Systems and Programmable Feed & Stop Systems.