New Precision Linear Motion Drive Features Thrust Capacity from 7 to 800 Pounds

New from Amacoil/Uhing is the Precision Motion Drive System. This is a Model RG rolling ring linear drive integrated with a motion controller for precision linear motion applications. The Precision Motion Drive is fully programmable and meets application requirements for precision winding/spooling, pick-and-place machines, X-Y coordinate tool movement, metrology equipment and other machinery providing fast, accurate positioning and reciprocating linear motion. Depending on the size of the RG drive nut in the system, the Precision Motion Drive System provides from 7 to 800 pounds of axial thrust.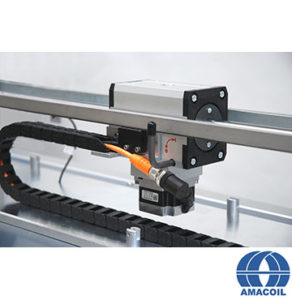 Linear movement of the drive head is defined via software and monitored by sensors feeding back to the electronic control unit. The Precision Motion Drive stores up to 20 programs which are easily recalled at the touch of a button. While meeting application requirements for most precision linear movement applications, the system is especially well suited for precision winding of a wide range of materials including wire/cable, PVC tubing, string, fiber, rope, rubber hose and vinyl strips. The new system also handles custom winding patterns and irregularly shaped spools.
The Precision Motion Drive System offers virtually unlimited flexibility with regard to specialized linear movement of the drive nut. Stop/start, travel direction, linear pitch, travel speed, repetitive processes, ramp up/down and essentially all other variables pertaining to drive nut movement may be programed into the system to meet application requirements. A single system may be set up to control multiple stations making it unnecessary to invest in multiple systems in order to help sustain high production rates.
A stepper motor controlled by a Siemens S7 PLC is included in the package. Fast, simple operation is enhanced with intuitive prompts displayed on a touch screen control panel. The shaft on which the Precision Motion Drive runs is smooth case hardened steel. There are no threads which makes the system useful in applications where particulate contaminants could fall into threads causing jams or clogs. The shaft rotates in one direction only. Drive nut travel direction, linear pitch and other motion parameters are controlled by the angle of the rolling ring bearings inside the drive unit. The angling and pivoting of the rolling rings is, in turn, controlled by user programming.
About Amacoil
Founded in 1952, AMACOIL helps its customers save time and money with "rolling ring" linear motion systems. Serving a broad range of industries, Amacoil is the value-added distributor for Uhing rolling ring drives which are used for reciprocating, positioning, and indexing linear motion processes. For some applications, in particular for spooling and winding, Uhing rolling ring drives are unmatched at lowering production and maintenance costs while boosting productivity. In broader linear motion system markets, such as the OEM design engineering market, Amacoil provides expert rolling ring linear motion guidance to explain when and how to use Uhing rolling ring technology to improve productivity and efficiency.
As the exclusive North American distributor for Uhing rolling ring drives, Amacoil provides sales, technical support, service/repairs and parts.
For more information, please visit www.amacoil.com.