IMTS 2016 Exclusive: WARDJet To Give Away 2 FREE Waterjets At The Build It! Challenge
Industry Professionals and Engineering Students Go Head-to-Head Building a Waterjet
WARDJet Inc., a leading manufacturer of tailored waterjet cutting systems headquartered in Tallmadge, Ohio, will be hosting the first ever Build It! Challenge at this year's IMTS with Hypertherm. The event will be held at McCormick Place in downtown Chicago Sept. 12 – 17 as part of the SmartForce Student Summit.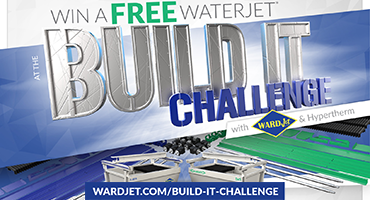 During this event, industry professionals will go head-to-head with engineering students nation-wide to build 1 of 2 WARDJet waterjets. At the end of each day, both waterjets will be quality tested and the winner will be crowned at the end of the week. All teams and attendees who participate in the Build It! Challenge will be entered for a chance to win 1 of the 2 FREE WARDJet waterjets for their business or school.
Certain restrictions apply, please see details at wardjet.com/build-it-challenge.
Attendees will have the chance to assemble a WARDJet Z-Carriage and get hands-on experience changing seals on a Hypertherm pump. Also, attendees will be able to see WARDJet's 5-Axis cutting head, the Infini Winder, and be able to remotely cut a part at WARDJet's production facility –directly from the show floor via live video!
Think your business or school is up to the challenge? Register your team before IMTS now at wardjet.com/build-it-challenge to lock-in your build slot and a chance to win a FREE waterjet for your business or school. Or, stop by WARDJet's booth, NC-733 & NC-738, and try to snag one of the remaining build slots. Act fast, only limited build slots will be available. See you at IMTS!
For more information, visit www.wardjet.com