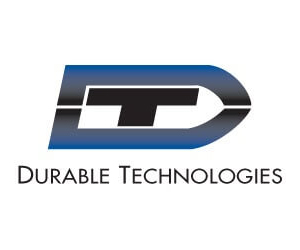 VisiMark Group Companies, a national leader in custom part marking and identification solutions, today announced its new corporate name, Durable Technologies.
By aligning its three marking companies – VisiMark Inc., Durable Mecco, and Durable Machine—under Durable Technologies, the company changed its corporate infrastructure as well as its strategic direction to leverage more than a hundred years of combined application experience and expertise.
"This new structure and company name allows Durable Technologies to offer the best marking and identification equipment and solutions to better serve customers across all industries," said Kari Lunden, President and CEO of Durable Technologies.   "Our multi-plant manufacturing locations in the East and Midwest offer an important national presence and ensure consistent service to customers.  More importantly, our manufacturing methods have evolved over the years from manual engraving to the use of cutting- edge technology to maintain quality and service levels."
Lunden is especially excited about the name change. "Growth necessitated change and our new name more accurately reflects both the company's leadership position and strategic direction," he commented.  "We will continue to recommend the most appropriate and cost-effective marking method for each customer's specific application, which is central to our company's success."
About Durable Technologies
The Durable Technologies companies—with VisiMark, Inc. and Durable Machine, based in Worcester, MA,  and Durable Mecco in Chicago, IL—provide marking and identification products, systems, and solutions to a wide range of industries including automotive, metal fabrication, defense, aerospace, firearms, medical, food and beverage, pharmaceutical, jewelry , and electronics.