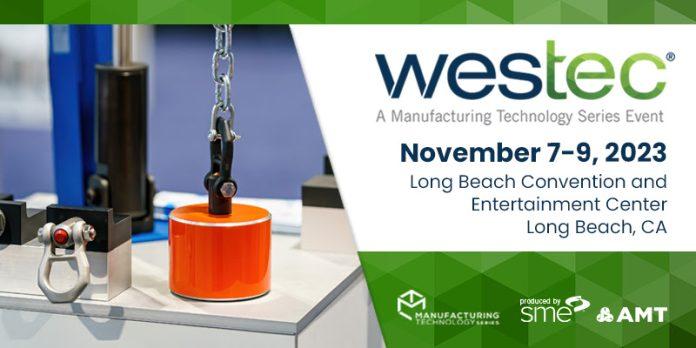 The countdown to WESTEC 2023 is ticking and you don't want to miss the most informative, innovative and inspiring manufacturing event to date!
WESTEC attracts leaders and curious minds within the manufacturing space — and like you, they know attending is one of the best ways to stay abreast of the trends taking the sector by storm.
This year's event is full of opportunities to exchange, learn and witness the latest ideas and technology in action.
Our attendees span into industries from aerospace and medical to industrial machinery, automotive, fabricated metal and more. Over 300+ national and local exhibitors are ready to show you the cutting-edge technologies and services you'll need to walk out of WESTEC excited to revolutionize your operations.
Experience groundbreaking products and solutions, many of which will launch exclusively at WESTEC 2023. You'll be the first to explore 100+ new products, from high-performance tools to testing chambers and advanced robotics.
From keynote presentations to panel discussions, our deep dive into digital transformation, state-of-the-art trends and technologies equips you with the tools your business needs to make decisions and take action.
You never know who you may meet along the way: That person standing or sitting next to you may connect you with the ideas, technologies or people you need to make your vision a reality.
Register now to secure access to the timely insights and exclusive technology you'll only find at WESTEC 2023—time is running out!
With 300+ local and national exhibitors on the show floor, you'll have cutting-edge technologies and services – and the experts who build them – at your fingertips including:



Remember, you can elevate your WESTEC experience by downloading the SME Events + App ahead of time. When you do, you'll unlock interactive features, networking, a personalized event agenda and AI-powered matchmaking.
WESTEC has arranged lodging and flight discounts for your visit to the Long Beach area. We have also provided information on driving directions and parking.
SUBSCRIBE to our Complimentary Publications: