Star SU LLC and Neher Group Form Agreement to Sell PCD Tooling in North America
Star SU LLC and Neher DIA GmbH & Co. KG have entered a joint venture partnership that appoints Star SU to sell Neher's PCD tooling portfolio in North America.  The addition of Neher's comprehensive line of diamond tools, including finish reamers, combination tools and PCD/CBN inserts, compliments Star SU's current cutting tool offering to provide a full service turnkey solution.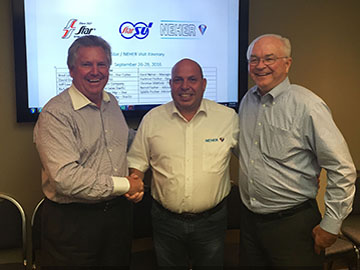 David Goodfellow, president of Star SU LLC is very pleased with the new partnership. "Star SU is elated to team together with Neher to bring world-class engineering and PCD cutting tool quality to the North American market. Neher carries a strong presence in automotive, aerospace and woodworking in Europe, and we are excited to expand our product line to best support our customer base."
Neher Group president, Gerd Neher agreed: "By combining Star SU's extensive network in the North American industry and Neher's technological expertise in the field of precision tools, we formed a very powerful cooperation to serve the American market."
About Star SU, LLC
Star SU, LLC offers a wide variety of machine tools, precision cutting tools and services including:
vertical and horizontal gear hobbing machines
chamfering and deburring machines
gear grinding machines
gear shaping and shaving machines
tool grinding machines
gear hobs and milling cutters
indexable gear milling solutions by Sandvik Coromant
gear shaper cutters and shaving tools
scudding® and power skiving tools
chamfer and deburring tools
gundrills
form tools and reamers
pcd tooling
carbide blanks and preforms
tool coatings
and tool life cycle management services
Star SU is the go-to- market cooperative partnership of Star Cutter Company of Farmington Hills, MI, and SU America, Inc., the US sales and manufacturing unit to Samputensili, S.p.A. of Bentivoglio, Italy. The companies together represent one of the world's largest gear machine, tool and gear tool manufacturing producers.
For more information, please visit www.star-su.com.
About Neher Group
Neher Group manufactures high-quality precision tools (PCD, CVD ,CBN) leak testing and automation solutions, which are developed in close collaboration with the customer. The PCD, CVD and CBN portfolio includes:
circular milling tools
face milling tools
combination tools
counterbore tools
reamer
finish reamer
retreat boring tools
chip breakers
PCD, CVD and CBN cutting inserts
For more information, please visit www.neher-group.com/en.