At IMTS 2022, Siemens will present the latest CNC technology and software solutions for the machine tool industry. Visitors to the show will find Siemens in booth #133346 located in the Controls-CAD-CAM pavilion located in the East Hall, as well as in booth #433028 in the Additive Manufacturing pavilion located in the West Hall.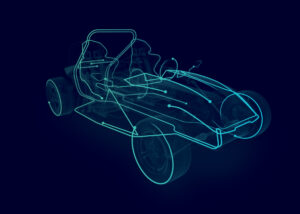 During IMTS, visitors will discover how to create digital innovations using the newest manufacturing software and machine tool technologies. In the booth, Siemens will demonstrate the production process of an essential component found inside an electrical vehicle. At every stage of the part's development including machining, display kiosks will take visitors through the digital manufacturing process. From the popular NX for Manufacturing software, which enables the use of 3D models, data, and processes to seamlessly connect planning and shopfloor operations on a digital thread, to the powerful SINUMERIK ONE, the digital-native CNC that permits a digital twin of the machine and its full operation in production, Siemens has streamlined the entire machine shop's operation.
Visitors can discuss their manufacturing challenges with Siemens experts to determine the optimum method of part design and manufacturing — whether one-off or full production runs, all performed with digitalization in mind. Manufacturers of all sizes wanting to implement digital solutions including the Digital Twin of their parts or production have access to a completely integrated portfolio of CNC hardware automation, design software, Industrial Edge technology, additive manufacturing resources, and machine tool services from Siemens.
Siemens Digital Factory (DF)
Siemens Digital Factory (DF) offers a comprehensive portfolio of seamlessly integrated hardware, software and technology-based services in order to support manufacturing companies worldwide in enhancing the flexibility and efficiency of their manufacturing processes and reducing the time to market of their products.
About Siemens USA
Siemens Corporation is a U.S. subsidiary of Siemens AG, a global powerhouse focusing on the areas of electrification, automation and digitalization. One of the world's largest producers of energy-efficient, resource-saving technologies, Siemens is a leading supplier of systems for power generation and transmission as well as medical diagnosis. With approximately 379,000 employees in 190 countries, Siemens reported worldwide revenue of $94.0 billion in fiscal 2018. Siemens in the USA reported revenue of $23.7 billion, including $5.0 billion in exports, and employs approximately 50,000 people throughout all 50 states and Puerto Rico.
Contact for journalists:
Siemens
John Meyer
(847) 952-4158
cnc.marketing.us@siemens.com