Jergens, 75 Years of Workholding Expertise on Display at IMTS W-2154
Jergens Inc. is proud to celebrate its 75th year of providing manufacturing efficiency. Since its more humble beginnings in the early 1940's when the company got its start to support wartime needs, Jergens has grown to provide products for customers worldwide, and now includes three business units: lifting systems, specialty fasteners and of course workholding solutions.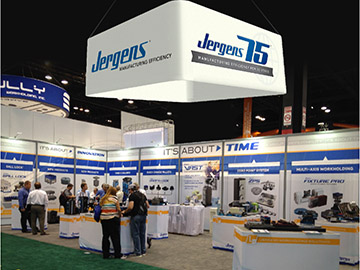 This year's IMTS participation shows no slow-down in the company's spirit of innovation. With a large and open floor plan, Jergens will showcase their mainstay workholding systems including Drop & Lock™ Pallet Changers, Fixture Pro® Quick-Change Fixturing, the Zero Point System (ZPS) and Ball Lock® Mounting Systems – all focusing on productivity improvements and cost reduction through set up time reduction.
Additionally, the company is unveiling several new products including vise and pallet combinations, quick locating plates and columns, trunnion tables and automated clamping modules. The wide range of quick-change workholding systems is supported by a knowledgeable staff of product managers and engineers to help customers achieve their productivity and efficiency goals.
In their ongoing efforts for process improvement, education and workforce development, they have also opened their new machining efficiency technology center called FastForward™ to describe their objective, vision and pace for industry. The regional center will focus on the Maker/Manufacturing movement and its significance to the nation's economy. HAAS Automation and Parlec are also partnering with Jergens to represent the most sophisticated manufacturing technology available today for demonstration and education. The center will regularly host events such as seminars, classes, think tanks and more.
About Jergens
Celebrating its 75th year, Jergens, Inc. is an ISO 9001:2008 certified company committed to helping its customers achieve leaner, more profitable manufacturing, and continues to add products and engineered solutions for an integrated approach to "Manufacturing Efficiency."
For more information on the complete line of workholding solutions, visit www.jergensinc.com.