Sandvik Coromant Offers Connectivity to Customers at IMTS 2016
In an era of digital transformation in machining operations, Sandvik Coromant will reveal for the first time at IMTS 2016 new connectivity-based solutions designed to help manufacturers optimize their machining and decision making process. The new solutions have been developed to improve every aspect of it, from design, production planning and through machining to post-process analysis and intelligence.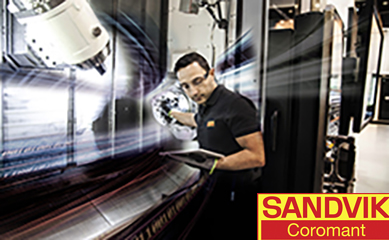 Digitalization within manufacturing is increasingly important for the future success of machine shops the world over however; embarking on this transformational journey brings also challenges and complexities. To help manufacturers overcome them, Sandvik Coromant has devised digital solutions that support those looking to take steps towards a connected future.
"Sandvik Coromant has a long heritage of bringing new technology developments to the metal cutting industry, each of which is based on the values that our customers hold highest, such as greater productivity and profitability," says Magnus Ekbäck, Vice President Business Development at Sandvik Coromant. "Connected software and hardware does the same thing but in a different way. At IMTS, visitors will discover how advancements such as data exchange and machining intelligence will improve efficiency and optimize production processes. New technologies open new possibilities and we are keen to share our knowledge and help customers take the lead in digital machining."
The data collected at each step of the digital machining processes combined with Sandvik Coromant's competence in interpreting and optimizing them will provide manufacturers with better insight about their machining environment and ultimately help them increase their overall profitability. For those wanting to discuss how best to benefit from digital advances such as connectivity, digital machining and big data, as well as the latest machining trends, leading experts from Sandvik Coromant will be available at IMTS 2016 to engage in discussion and address visitors' specific inquiries. A wide selection of tools will also be on show at the exhibition, some of which will be taking part in live demonstrations.
IMTS 2016 takes place on 12-17 September at McCormick Place, Chicago, USA. Sandvik Coromant has two booths at the show, W-1500 (West Building) and NC-509 (North Building, Hall C).
Sandvik Coromant
Part of global industrial engineering group Sandvik, Sandvik Coromant is at the forefront of manufacturing tools, machining solutions and knowledge that drive industry standards and innovations demanded by the metalworking industry now and into the next industrial era. Educational support, extensive R&D investment and strong customer partnerships ensure the development of machining technologies that change, lead and drive the future of manufacturing. Sandvik Coromant owns over 3100 patents worldwide, employs over 8,500 staff, and is represented in 150 countries.
For more information visit www.sandvik.coromant.com or join the conversation on social media.