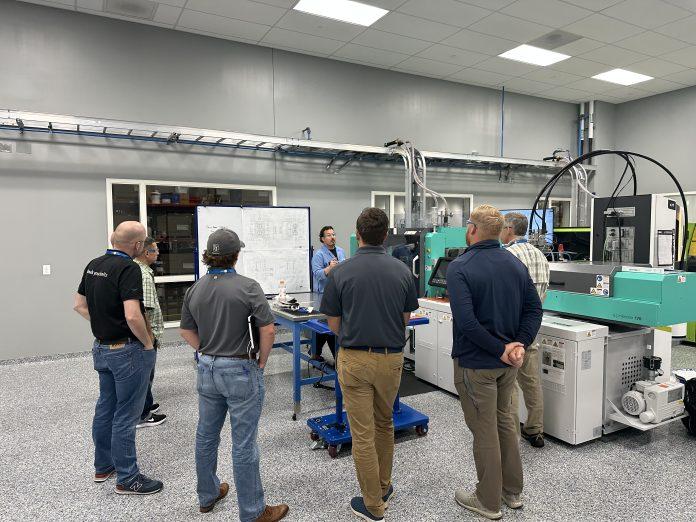 RDAbbott is partnering with ARBURG and Roembke Mfg. & Design, Inc., to share advanced technologies for injection molding. RDAbbott's Service Center in Barberton, Ohio, will be the venue for this free event, which is scheduled for November 2, 2023, from 10:00 AM to 2:00 PM (ET). Doors open at 9:30 AM, presentations begin at 10:00 AM, and heavy hors d'oeuvres and beverages will be provided throughout the event. Non-competitors are invited to register online at https://rdabbott.com/news/arburg-openhouse.
Visitors to the Open House can expect to learn about ARBURG's high-precision, all-electric ALLROUNDER Injection Molding Machines, Roembke's Quick Prototype Systems (QPS) and liquid-valve cold deck systems, and RDAbbott's supply of high-performance elastomers and top-notch technical support. In addition to hearing from industry-leading experts, attendees will gain firsthand experience they can use to optimize their manufacturing operations.
ARBURG's ALLROUNDER machines feature advanced process control for the consistent, predictable injection molding of thermoplastics, liquid silicone rubber (LSR), high consistency rubber (HCR), and powder injection molding (PIM). A smart control system, developed and manufactured by ARBURG, maintains adaptive control over the machine, mold, robotics, and peripheral technology. Some application examples include sealing rings, caps, respirator masks, lenses, and medical drug implants—as well as automated systems for overmolding application. Optional dosing, vacuum, and demolding technology is also available as part of ALLBURG's complete automation solution.
Roembke's QPS technologies enable the testing of iterative designs and material changes without incurring the typical costs and lengthy lead times associated with building a full production mold or a bridge mold. The QPS is available for both LSR and HCR materials and provides production-equivalent parts for testing material grades, establishing shrink rates, and comparing parting line and gate locations. Roembke's proprietary and stand-alone cold deck systems are easy to clean, maintain, and disassemble.
As a full-service supplier to the rubber industry, RDAbbott is staffed with rubber industry experts, equipped with a comprehensive testing laboratories, and stocked with leading elastomer products in warehouse locations throughout North America. Their featured research and laboratory services include material design and development, product optimization, material preparation, chemical analysis, material characterization, and physical properties testing. Their featured engineering services include process engineering, development, and troubleshooting; molding and material trials; equipment and process training; production start-up support, and design for manufacturability assistance.
"Our team is looking forward to hosting this Open House," said Tom Jenkins, RDAbbott's Vice President of Business Development. "Sharing advanced technologies about injection molding demonstrates our commitment, and that of our event partners, to helping customers learn about new technologies and improve their operations."
About RDAbbott
RDAbbott is a full-service supplier that's been serving the rubber industry since 1948. We are staffed with rubber industry experts, equipped with a comprehensive testing laboratory, and stocked with leading elastomer products in warehouse locations throughout North America. Featured laboratory services include in-house design and development capabilities (under ISO 9001:2015). Our product line encompasses a best-in-class list of elastomeric polymers, rubber chemicals, fillers, bonding agents, and testing equipment—all from respected manufacturers with trusted name brands. In 2019, RDAbbott was named one of the Best Places to Work by Rubber & Plastics News.
About ARBURG
ARBURG is a German machine manufacturing company. It is owned by the Hehl and Keinath families and, with its electric, hybrid and hydraulic injection molding machines, turnkey systems, and its industrial additive manufacturing system, is among the industry leaders worldwide.
About Roembke Mfg. & Design, Inc.
Roembke is an industry-leading U.S. manufacturer of precision rubber tools. Roembke specializes in LSR and rubber molds, plastic molds, LSR cold decks, molding automation solutions, downstream automation solutions and complete turnkey molding solutions. Their unique mold designs and machining technologies allow for easy mold processing.
SUBSCRIBE to our Complimentary Publications: