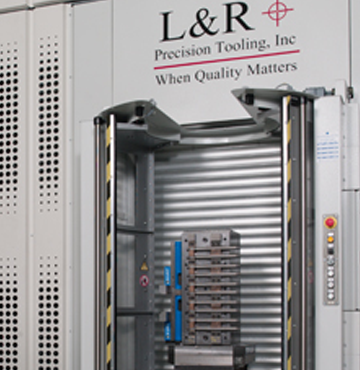 Okuma's PALLETACE enhances productivity and CNC machining capabilities for L&R Precision Tooling, Inc.
Okuma customer L&R Precision Tooling, Inc. has invested in their future with a PALLETACE flexible manufacturing system (FMS) integrated with three Okuma MB-4000H horizontal machining centers. As a busy CNC job shop serving the aerospace, medical and energy industries, they handle a wide variety of jobs that involve complex, tight tolerance parts cut from exotic and difficult to machine metals. The integrated machining center and FMS system provide flexibility that enables them to be more proactive and reactive to customer needs. "We don't think you have to grow or die. But you do have to improve or die. Our PALLETACE system from Okuma allows us to do that," states Clay Leath, President, L&R Precision Tooling.
The FMS reduces set up time and change overs allowing L&R to take on repeat orders while accommodating schedule and quantity changes. This advanced CNC machining technology also enables shorter lead times, competitive pricing and lights-out manufacturing for increased productivity. Since acquiring the PALLETACE L&R has more than doubled their warehouse square footage in addition to increasing their workforce by 45 percent.
The L& R Precision Tooling, Inc. story and other Okuma customer testimonials can be found at www.okuma.com/testimonials.
If you would like to share your company story through an Okuma testimonial, please visit: www.okuma.com/tellyourstory.
To learn more about L&R Precision Tooling, Inc., please visit:
www.lrprecisiontooling.com/.
About Okuma America Corporation:
Okuma America Corporation is the U.S.-based sales and service affiliate of Okuma Corporation, a world leader in CNC (computer numeric control) machine tools, founded in 1898 in Nagoya, Japan. The company is the industry's only single-source provider, with the CNC machine, drive, motors, encoders, spindle and CNC control all manufactured by Okuma. Okuma's innovative and reliable technology, paired with comprehensive, localized service protection, allows users to run continuously with confidence – maximizing profitability. Along with its industry-leading distribution network (largest in the Americas), and Partners in THINC, Okuma facilitates quality, productivity and efficiency, empowering the customer and enabling competitive advantage in today's demanding manufacturing environment.
For more information, please visit:
www.okuma.com
Stay Connected:
11900 Westhall Drive · Charlotte, North Carolina 28278
P: (704) 588-7000  ·  F: (704) 588-6503