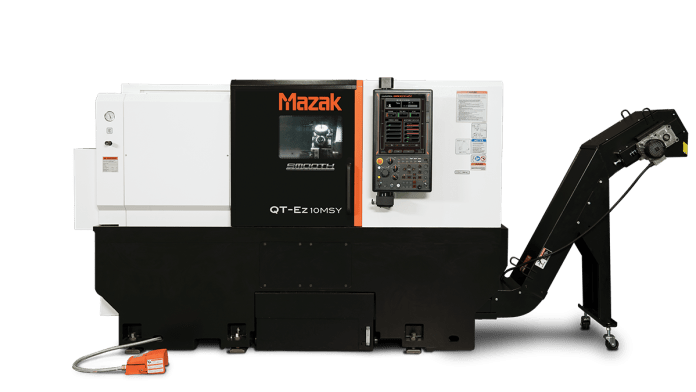 Canadian manufacturers who want to boost their machining productivity and profitability will experience high-efficiency precision from Mazak solutions at the Canadian Manufacturing Technology Show (CMTS) from September 25-28 in booth #1217.

Mazak's DONE IN ONE® Multi-Tasking machining will be represented by the INTEGREX i-350H S and QT-Ez 10MSY Multi-Tasking CNC Turning Center with integrated cobot. In addition, the company will feature the SYNCREX 25/7 Swiss-Type Production Turning Machine with bar feeder, VC-Ez 16 Vertical Machining Center with integrated Friction-Stir Welding (FSW) and the VARIAXIS C-600 simultaneous 5-axis Vertical Machining Center with RoboJob Turn Assist automation.

"At Mazak, we know the value of complete digital integration for advanced manufacturing because we use it in our own factories worldwide," says David Andrews, General Manager for Mazak Canada. "Demonstrating how Mazak makes automation seamless helps shops of all sizes envision how they apply it in their shops and on the production floor."

While at the show, guests are encouraged to schedule a visit to Mazak's Canada Technology Centre in Cambridge, Ontario or, if in the western region, the Edmonton Technical Centre in Edmonton, Alberta. Both facilities provide direct access to the latest Mazak machine technology, process and application engineering, professional development and collaborative innovation with the company's industry partners.

During CMTS, attendees will also see the SMOOTH CAM Ai machine simulation, SMOOTH Monitor manufacturing environment tracking system and MAZATROL CNC simulators. In addition, Mazak will provide in-depth information about its industry leading MPower service and support program for complete customer care.

The INTEGREX i-350H S Multi-Tasking Center delivers the highest level of single-setup part-production versatility of a high-powered turning center and full-function machining center combined. This machine configuration features a second turning spindle (S) for DONE IN ONE® machining, minimizing fixtures, tools, handling and non-cut time. The machine enclosure and tool magazine accommodate a comprehensive range of automation technologies, including gantry loaders, bar feeders, and articulating robots. Its MAZATROL SmoothAi CNC offers standard specialized operations, including crank shaft inclined drilling or gear skiving.

The QT-Ez 10MSY Multi-Tasking CNC Turning Center puts Mazak reliability and innovation in a compact, affordable machine. Its milling capability, second spindle and Y-axis functionality provide efficient single-setup processing of a wide range of parts. At CMTS, the machine will be paired with a cobot for lights-out unattended production that enhances virtually any workflow.

The Mazak SYNCREX 25/7 Swiss-Type Production Turning Machine powers through high-speed production of small, precise parts from up to 1″ bar stock, with a seven-axis configuration that includes five spindle motors. The machine transforms productivity with innovative new technologies. The machine's 15″ touch-panel MAZATROL SmoothSt CNC with full mechanical keyboard is engineered specifically for Swiss-Type machining. Its High Damping Composite Casting (HDCC) base provides better rigidity, less thermal distortion, longer tool life and better surface finishes. At CMTS, this machine will be paired with a bar feeder for automated, unattended operation.

The VC-Ez 16 Vertical Machining Center combines a rugged spindle and space-saving design with unprecedented affordability. A full range of spindle, auto tool changer and chip/coolant management options configures the machine to meet many production needs. At CMTS, Mazak will demonstrate this machine with onboard FSW capabilities that create high-strength, full-penetration, defect-free welded joints.

The automation-ready VARIAXIS C-600 simultaneous 5-axis Vertical Machining Center with MAZATROL SmoothAi CNC produces a wide range of parts from steel and non-ferrous metals. The machine includes a standard 30-tool changer, dual-supported tilting table and copious spindle options, and provides up to 120-tool storage. At CMTS, Mazak will pair the machine with the RoboJob Turn Assist robot system that transforms small to medium-sized production batches for high-mix job shops. RoboJob achieves smooth, efficient movement for loading and unloading parts – without complicated teaching routines.

As an option for the MAZATROL SmoothAi CNC, Mazak's SMOOTH CAM Ai simulates and analyzes data for multiple machines and optimizes machining parameters in real time. Along with machine simulations, SMOOTH CAM Ai makes it possible to prepare programs on a remote PC and advantage of real-time data access through MAZATROL Twins to create fully accurate outcomes based on actual machine data.

SMOOTH Monitor easily keeps track of the entire manufacturing environment in nearly real time to eliminate bottlenecks, streamline production and optimize processes.

MAZATROL CNC simulators help shop personnel learn and pre-program MAZATROL CNCs with software emulation that enables operators transition to new machine tools and simplifies accurate creation of complex parts.
About Mazak Corporation
Mazak Corporation is a leader in the design and manufacture of productive machine tool solutions. Committed to being a partner to customers with innovative technology, its world-class facility in Florence, Kentucky produces over 70 models of turning centers, Multi-Tasking machines and vertical machining centers, including 5-axis models, Hybrid Additive processing machines and Swiss Turning Machines. Continuously investing in manufacturing technology allows the Mazak iSMART Factory™ to be the most advanced and efficient in the industry, providing high-quality and reliable products. Mazak maintains eight Technology Centers across North America to provide local hands-on applications, service and sales support to customers.
SUBSCRIBE to our Complimentary Publications: