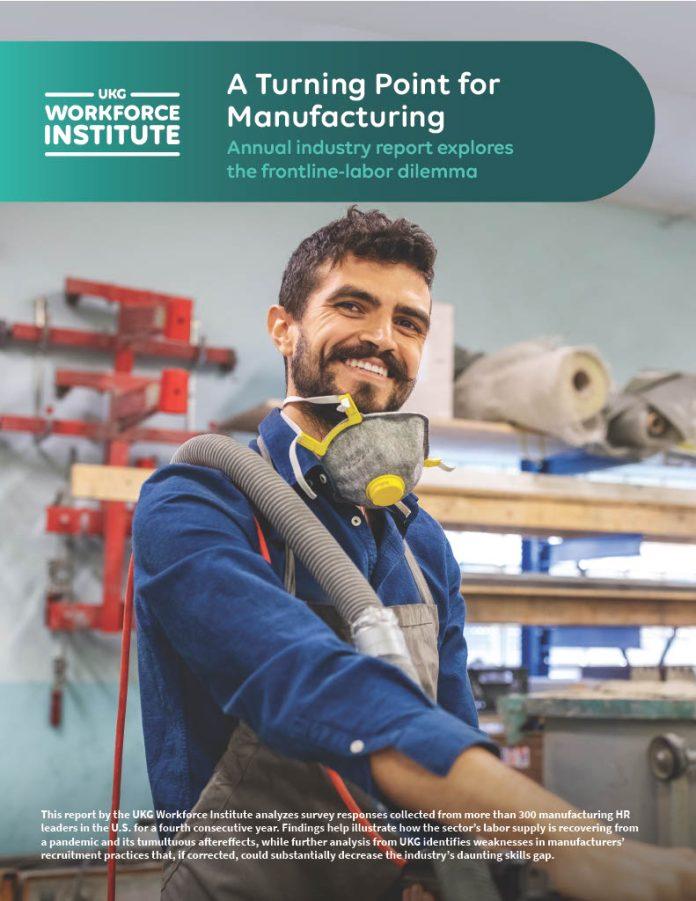 Healthy growth in demand for manufactured goods and services, as well as year-over-year increases in production capacity, revenue, and shift work, highlight a positive outlook for the U.S. manufacturing sector in the second half of 2023, according to a new survey from the UKG Workforce Institute. Still, 76% of manufacturers are struggling to fill critical labor gaps, and 2 in 3 (66%) said it takes longer now to fill open positions.
"Manufacturers understand the gravity of their situation. This is an issue they've been tackling for a long time — much longer than the pandemic-induced labor shortages affecting other industries have existed," said Kylene Zenk, industry fellow, manufacturing, at UKG. "By and large, our research shows most organizations are taking meaningful steps to close the manufacturing skills gap that could immobilize the U.S. economy if left unchecked. Manufacturers understand the assignment and are looking to people-focused initiatives and technology advancements to strengthen recruitment and retention."
And it may be working: Great Place To Work research finds that 4 in 5 manufacturing employees in the U.S. plan to still be at their jobs within the next six months — slightly ahead of other industry averages.
Survey responses from more than 300 manufacturing HR leaders in the U.S. reveal a set of organizational priorities to diversify recruitment, strengthen the frontline-employee experience, and better support frontline managers in a vital effort to curb employee turnover while responding to a sharp rise in demand:
Around 3 in 5 manufacturers reported an increase in employee turnover (62%) and unfilled jobs (57%) at their organizations over the prior year.
Most HR leaders say $20,000 to $40,000 is the average cost to replace a skilled frontline employee.
More than half of manufacturers (54%) said their annual rate of turnover is above 20%.
To fill critical labor gaps and strengthen talent pipelines, manufacturers are continuing to diversify candidate pools to varying degrees, though a limited number — fewer than 1 in 4 (24%) — are proactively recruiting women, and just 39% consider diverse hiring a "high priority" for their organizations.
"The best way to solve a problem is to have a diverse team — differences make us stronger," said Magda Dexter, senior vice president of human resources at Saint-Gobain North America, a UKG customer that views its deep commitment to building a diverse and inclusive workplace as a competitive advantage. "The talents, perspectives, and lived experiences of women and other underrepresented groups are invaluable to creating a workplace culture that attracts and retains the best talent, and every organization can think of ways to remove barriers of entry and close the opportunity gap, especially as so many are struggling to find skilled workers."
Nearly 9 in 10 manufacturers (88%) agree diverse teams are typically "more creative and innovative," and separate research from the Manufacturing Institute recently identified women as one of the most viable and strategic talent pools for the manufacturing sector.
Additional opportunity lies in reframing the frontline employee experience: 80% of manufacturers acknowledged they have two separate cultures in their companies, often with greater focus placed on creating a positive culture and experience for corporate employees, compared with the hourly team members who keep production lines running.
For example, more than two-thirds of manufacturers (68%) say their companies aren't doing enough to support the frontline-employee experience with mobile technology. Professional development, predictable work schedules, paid time off, employee-wellness programs, and flexible schedules for frontline workers are similarly lacking, as is training for frontline managers.
"While operational dynamics may prevent all employees from having the same experience, manufacturers do have opportunities to enhance equity at all levels of their organizations. Whether by increasing flexibility to address family and personal needs or empowering frontline staff to learn new skills so they can advance within their companies, small changes can have big impacts on the frontline experience and make workplaces more attractive to skilled talent," said Zenk.
Trending in the right direction, nearly 9 in 10 manufacturers (87%) said they are both proactively seeking new ideas from frontline workers to improve processes and are actively trying to set up more flexible work arrangements for frontline workers.
"Taking better care of your people and giving them a voice in their experiences have a tremendous impact on retention," said Dr. Jarik Conrad, executive director of the UKG Workforce Institute, a global think tank that provides research and education on critical workplace issues. "The key is to operationalize this practice for the frontline, where not everyone has a work email and may not speak the same language. To be effective, feedback and communication channels need to meet your people where they are. Even more important is translating their input into action. Being curious, empathic, and open to change are among the greatest traits a leader can possess."
About the UKG Workforce Institute
The UKG Workforce Institute is a global think tank of HR practitioners, researchers, and business leaders dedicated to driving organizational growth and performance through an emphasis on people. Established in 2007, the institute regularly shares original research, data-driven insights, and actionable strategies from its esteemed board members and industry executives. The UKG Workforce Institute is focused on the key areas of culture, compliance, talent, technology, and wellbeing; how each impacts various industries and the workforce at large, from the frontline to the C-suite; and what organizations can do to best serve their employees, today and in the future.
About UKG
At UKG, our purpose is people. As strong believers in the power of culture and belonging as the secret to success, we champion great workplaces and build lifelong partnerships with our customers to show what's possible when businesses invest in their people. One of the world's leading HCM cloud companies today, UKG and our Life-work Technology approach to HR, payroll, and workforce management solutions for all people helps 80,000 organizations around the globe and across every industry anticipate and adapt to their employees' needs beyond just work.
Survey Methodology
Research findings are based on an industry survey conducted by InnovateMR on behalf of the UKG Workforce Institute to better understand how the U.S. manufacturing sector's labor supply is recovering from a pandemic and its tumultuous aftereffects, including whether current best practices can be applied to solve the industry's long-term skills gap. Responses were collected June 1-21, 2023, from 304 HR leaders at U.S.-based manufacturing organizations, including HR directors (37%), HR executives (34%), HR managers, hiring managers, and recruiters (24%), and other hiring decision-makers (5%). Nearly 40% of respondents said their company's annual revenue tops $500 million, and 14% work for a U.S.-based multinational organization. The UKG Workforce Institute conducted similar studies in 2020, 2021, and 2022.
SUBSCRIBE to our Complimentary Publications: