We are pleased to announce that Jorgensen Conveyors will be exhibiting this year at FABTech.  FABTech is expected to cover more than 550,000 net square feet and anticipates over 28,000 attendees as well as over 1,300 exhibiting companies.  FABTech exhibitors display the latest industry products, developments and tools to improve productivity, increase profits and discover new solutions to all your metal forming, fabricating, welding and finishing needs.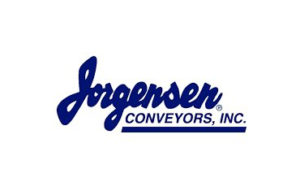 Jorgensen Conveyors has been a supplier of application-focused solutions in many fabricating processes including stamping, shearing, punching, laser cutting, plasma cutting, sawing, waterjet cutting, welding, machining/chips, in-plant central collection of scrap/parts, as well as many more.  Jorgensen Conveyors will be displaying an array of conveyor belt styles with special design geared to meet the needs of challenging applications.
Event Details:
Period:      November 16-18, 2016
Wednesday, November 16 – 10am – 6pm
Thursday, November 17 – 9am – 5pm
Friday, November 18 – 9am – 4pm
Location:  Las Vegas Convention Center
3150 Paradise Road
Las Vegas, NV 89109
Booth:      C51097 – Located in the Central Hall
Displaying a variety of belting options including:
4" pitch flat top style, plain apron plates with standard off-set side wings
4" pitch pimpled belt with "pork chop" side wings, armor protection, welded hinge loops, cleats on top of loops and welded to wings
Standard 4" pitch pimpled belt with coped angle cleat, notched up and around wing cleat, and bar style impact shoes
12" wide 2.4" pitch extreme duty side bar belt with welded loops, welded side wings to aprons, chamfered cleat, bar cleat, pimpled apron plates
5" pitch pimpled side bar belt with round stock to protect hinge loops
5" pitch drag chain
5" pitch hinged steel belt, pimpled apron plates with .125" round armor
Jorgensen Conveyors:
Jorgensen Conveyors is a 3rd Generation Family-Owned and Operated business that opened its doors in 1950.  The company boasts a 100,000 square foot state-of-the-art facility that enables projects to be customized and fabricated.  This allows them to produce durable, long lasting conveyor products to withstand the toughest applications.
Learn more about the different belting options on display as well as how Jorgensen can assist with your toughest applications visit Jorgensen Conveyor's Booth C51097 at FABTech Las Vegas November 16-18, 2016.