Join Ipsen at FNA 2016 and Experience Innovation at Your Fingertips
Building upon a legacy of innovation, Ipsen will provide an in-depth look at their latest technologies and advancements during Furnaces North America (FNA) 2016, including their PdMetrics® software. From cutting-edge predictive maintenance capabilities to advanced vacuum and atmosphere heat-treating systems, Ipsen will highlight real-life customer experiences and innovations throughout time.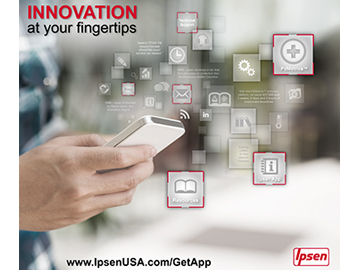 Join Ipsen at booth #201/203 for an interactive tour experience and a live demo of the PdMetrics® software platform for predictive maintenance. The PdMetrics platform provides the power of going beyond maintenance and gaining more control. It securely connects to a network of integrated sensors on the furnace to provide real-time diagnostics that improve the health and integrity of heat treatment equipment. As a result, users can make faster, more informed decisions when it matters most.
Attendees can also receive a $10 Starbucks or Subway gift card* for downloading the Ipsen Innovation Tour: FNA 2016 mobile app by midnight on October 3, 2016. This app will allow attendees to take part in an immersive and interactive tour experience at Ipsen's booth, as well as enter for a chance to win an iPad and other prizes. During FNA 2016, Ipsen expert, Jim Grann, will also present PdMetrics® Case Studies: Implementing Predictive Maintenance in the Thermal Processing Industry.
Download the app today and learn more about how Ipsen is continuing their legacy of innovation at www.IpsenUSA.com/GetApp.
About Ipsen
Ipsen designs and manufactures industrial vacuum and atmosphere heat-treating systems, supervisory controls systems and predictive maintenance software platforms for a wide variety of industries, including Aerospace, Automotive, Commercial Heat Treating, Energy and Medical. With production locations in America, Europe and Asia, along with representation in 34 countries, Ipsen is committed to providing 360° support for customers worldwide. Choosing Ipsen means choosing a partner in success.
For more information, visit www.ipsen.com.