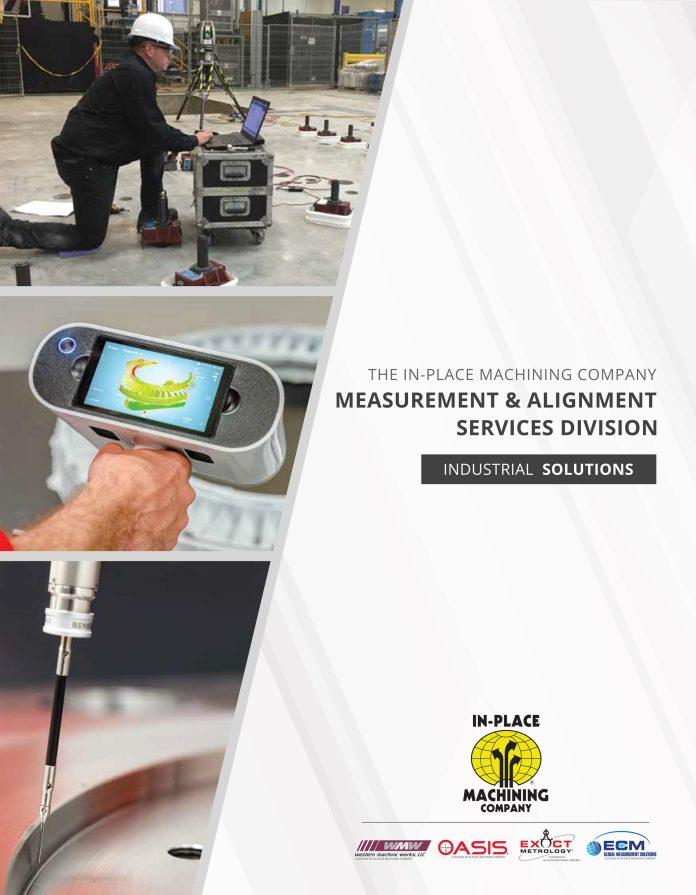 In-Place Machining Company's new Measurement & Alignment Services Division, comprising Exact Metrology, OASIS Alignment Services and ECM: Global Measurement Solutions, has just released its new brochure and website page, showcasing the benefits of having one source for precision measurement and alignment solutions in plant and process operations.

These new resources highlight the innovative dimensional metrology, machine alignment, measurement tooling calibration, training and certification capabilities of these three highly respected industry suppliers. Providing an integrated approach benefits IPM customers with improved collaboration between a much larger team of experienced metrology engineers and technicians with skills, using a broader range of highly accurate and innovative 3D metrology tools and technologies.

With state-of-the-art measurement technology, cutting edge design and ISO 9100 & AS9100 Rev D certification, the 3D scanning facilities of the IPM Measurement & Alignment Services Division can capture measurements from objects as small as a medical heart stent to areas as large as a football field. Using a fleet of innovative metrology solutions, this new division offers precision machine alignment, resulting in reduced downtime, improved product quality and minimized waste for many in the manufacturing and process industries. Calibrating 3D measurement systems such as laser trackers, portable arms etc. on a schedule will maximize the accuracy and clarity of the data. Highly trained metrology professionals help when clients need to ensure equipment precision and accuracy to boost their bottom line.

Capturing information using 3D scanning methods to find measurements of thickness, accuracy, porosity and more, is achieved with the Data Capture software. It's compatible with short range, long range, computed tomography (CT) and coordinate measuring machine (CMM) scanners as well as laser trackers. Additionally, post-processing solutions are tailored to fit the needs of myriad IPM client applications.

Proper machine alignment involves more than just data collection. Experienced staff from all the participating companies have the skills, tooling and knowledge not only to provide highly accurate alignment inspection data, but also to make the necessary mechanical adjustments. This saves considerable time and money during planned outages, emergency shutdowns, rebuilds and installations. Using advanced alignment solutions, IPM helps clients increase operating efficiency through alignment inspections and diagnostics, mechanical adjustments, alignment planning and technical reports.

Calibration services can be performed onsite at the client's facility or at one of the IPM ISO/IEC 17025 Accredited Laboratories. The Measurement & Alignment Services Division provides calibration for a wide array of applications including ISO/IEC 17025 accredited lab, comprehensive reporting, on-site calibration, ASME standards evaluation, cleaning and firmware upgrades, portable instruments and stationary CMMs.

For those who prefer keeping their measurement processes in-house, the company provides training and certification services. These include CMS metrology certification, geometric dimensioning & tolerancing (GD&T), dimensional metrology, equipment and maintenance and measurement software.

Users in a wide variety of manufacturing and process industries will benefit from the collaborative capabilities of the IPM Measurement & Alignment Services Division.
In-Place Machining Company: On-Site Machining Solutions In-Place, Any Place in the World.
In-Place Machining Company is the premier provider of high-precision machining, large scale cutting and drilling, dimensional metrology, instrument calibration, and machine alignment services for a wide range of renewable energy, aerospace, industrial, and military customers throughout the world. Now with seventeen service locations across the U.S. and Canada, IPM has a breadth of service offerings that is unmatched in the industry.
Exact Metrology: A Division of In-Place Machining Company, is ISO9001, AS9100 Certified as well as ITAR Registered.
Exact Metrology is a comprehensive metrology services provider, offering customers 3D and CT scanning, reverse engineering, quality inspection, product development and 3D modeling. The company also provides turnkey metrology solutions, including equipment sales and lease/rental arrangements.
OASIS Alignment Services: A Division of In-Place Machining Company, a Leader in Precision Measurement, Machine Alignment and Mechanical Services
With a unique combination of tooling and services and a team of knowledgeable and dedicated engineers and field technicians, OASIS partners with customers to develop solutions specific to their precision measurement and machine alignments needs. Using a fleet of precision metrology instruments and mechanical tools, OASIS can provide full turnkey service from a North American network of service centers.
East Coast Metrology: A Division of In-Place Machining Company, a Leader in Precision Measurement, Machine Alignment and Mechanical Services
A globally recognized full-service contract measurement company specializing in 3D scanning and modeling, reverse engineering and design, training and certification, instrument calibrations, equipment rentals, integration & alignment and more. Headquartered in Topsfield, Massachusetts, ECM hosts an ISO/IEC 17025 Accredited Laboratory performing instrument calibrations, repairs and CMM part inspection and programming.
SUBSCRIBE to our Complimentary Publications: