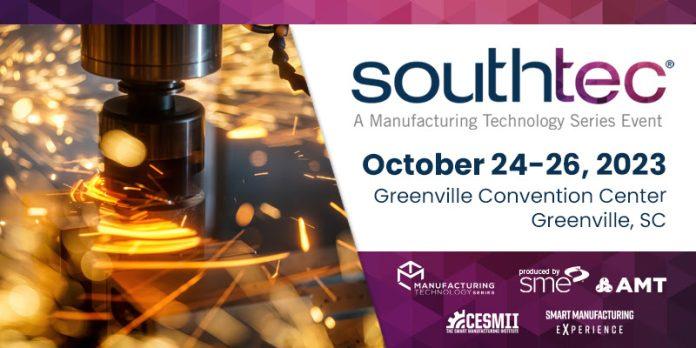 This fall, be a part of the South's most informative, immersive manufacturing event at SOUTHTEC 2023.
Located in Greenville, S.C., SOUTHTEC brings together the minds and businesses leading our industry into the future. The three-day event from October 24-26 features cutting-edge presentations, enlightening discussions and endless opportunities to connect and collaborate with businesses of all sizes — from small, up-and-coming companies with fresh ideas to the most influential and otherwise hard-to-reach OEMs.
SOUTHTEC 2023 will highlight the Smart Manufacturing Pavilion, in partnership with CESMII – the Clean Energy Smart Manufacturing Innovation Institute. Smart manufacturing enables key information about the manufacturing process to be available when it is needed, where it is needed, and how it is needed across the entire manufacturing value-chain to power critical decision making.
You'll see the innovative tech and influential ideas shaping the next era of the manufacturing industry, with exhibits and presentations from a broad spectrum of disciplines.
Five Reasons to Attend SOUTHTEC 2023
Meet face-to-face with industry suppliers: Hundreds of industry leaders presenting the latest technologies and advancements in manufacturing
Improve your productivity and profits: Compare equipment, techniques and processes to see first-hand how they can improve efficiency and output
Build your expertise: Free keynotes and educational presentations to stay ahead of manufacturing topics and trends
Smart Manufacturing workshops and showcases: Learn how businesses are leveraging the latest tech and AI
Networking: Connect with business leaders operating in the southeastern U.S. and share experiences with people with similar mindsets and operational challenges
Don't miss this opportunity to learn from the industry's best businesses as you prepare yourself and your organization for the future of manufacturing. Be a part of it all this October. Don't delay — registration is free, but space is limited!
SUBSCRIBE to our Complimentary Publications: