Gear Motions, a leading precision gear manufacturer, has named Paul Andruszko vice president of its Buffalo, New York, operations, which includes its Oliver/Pro-Gear and Niagara Gear divisions. Andruszko has more than three decades of experience in the gear industry and most recently served as general manager of the company's Niagara Gear division.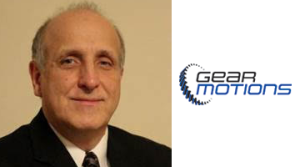 He replaces Michael Barron, who retired in December after leading Oliver/Pro-Gear for more than 20 years. Oliver/Pro-Gear creates custom gears for all types of equipment, including elevators, ski lifts and petroleum exploration, production and refining equipment, in low to moderate volumes. Niagara Gear manufactures precision ground spur, helical and pump gears for a large and diverse global customer base.
"Gear Motions is committed to delivering products that meet world-class specifications for quality, safety and efficiency, and exceeding our customers' expectations," said Barron. "I'm confident our customers can expect the same level of quality and attention to detail will continue and flourish under Paul Andruszko's leadership. He has the talent, knowledge and hands-on experience in gear design to lead Oliver/Pro-Gear and Niagara Gear into the future."
"Mike Barron and I worked closely together so that the transition of leadership is as smooth and seamless as possible," Andruszko said. "Our Buffalo divisions will continue to provide extraordinary service to our existing customers while helping new clients design gears that will make their operations smoother and more efficient."
Andruszko joined Gear Motions in 1988 as a manufacturing engineer in the company's Niagara Gear division. He has since held numerous positions within the company, including operations and engineering manager. Prior to joining Gear Motions, he gained engineering experience at Pratt and Whitney Aircraft, a division of United Technologies that designs, manufactures and services aircraft engines and auxiliary power units. He has a bachelor's degree in mechanical engineering from the University of Hartford in West Hartford, Connecticut.
About Gear Motions:
Gear Motions Inc. is an employee-owned company, with gear-manufacturing facilities in Syracuse and Buffalo, New York. Specialists in precision ground gears, the company manufactures cut or precision ground gears for customers around the world, along with precision cut spur, helical, bevel and worm gears, and multiple types of belt sprockets, timing pulleys and splines. For more information, visit www.gearmotions.com.