Allied Machine Announces Purchase of Majority Interest in Wohlhaupter

Allied Machine & Engineering Corp, a leading manufacturer of hole-making and finishing tooling systems, announces it has purchased a majority of the shares of Wohlhaupter GmbH of Frickenhausen, Germany, Wohlhaupter USA and Wohlhaupter India.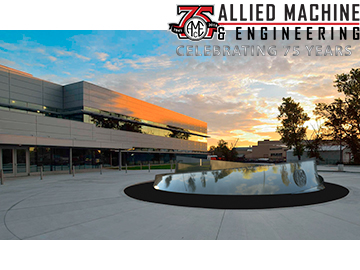 Known all over the world as a manufacturer of innovative, modular tool systems, Wohlhaupter produces facing and boring heads, grooving heads, clamping tools and customized solutions for boring operations. The most significant product additions include Wohlhaupter's larger diameter boring tools and their line of digital boring tools. With one innovation after another, they have continually reinforced their reputation as the world leader in digital boring tools.
"Allied Machine is a perfect fit with Wohlhaupter," said Bill Stokey, President/CEO of Allied Machine & Engineering. "Both are family-owned companies whose foundations are built upon excellent quality, flexibility, and ability to customize products and services, as well as a preference for building strong partnerships with our customers. These commonalities will produce a seamless integration of our philosophies and services."
Customer sales and support will continue to be provided by both Allied and Wohlhaupter, reflecting the strong longstanding relationships established by both companies.
"By acquiring Wohlhaupter, Allied has added the world's widest range of precision boring tools to our already vast array of available products," adds Eric Tope, Vice President of Marketing & Sales. "Equally important is the fact that Allied now has a manufacturing presence in Europe and an additional 30 Field Sales Engineers throughout the USA, Germany and India."
About Allied Machine & Engineering Corp.
Allied Machine & Engineering Corp is a leading manufacturer of hole-making and finishing tooling systems. Allied devotes its advanced engineering and manufacturing capabilities to creating the widest selection of value-added tooling available to metal-cutting industries around the world. Our tooling solutions deliver the lowest cost-per-hole in a wide range of drilling, reaming, threading, and boring applications.
Located in Dover, Ohio, Allied's precision hole-making technologies provide end users worldwide with the highest level of drill performance. Precision engineering and expert application support make Allied the first and best choice for solving complex metal-cutting challenges.
For more information, please visit www.alliedmachine.com.
About Wohlhaupter
Wohlhaupter manufactures the widest range of precision boring tools and systems available in the marketplace. For more than 40 years, Wohlhaupter has been the consistent leader in technological innovations for improving precision boring operations. Industry firsts include the MultiBore component tooling system, self-balancing tools, tough aluminum alloy tool bodies, and tools with digital readout tool setting. Highly trained Wohlhaupter application engineers are available to assess specific boring needs and provide cost-effective solutions for the most complex and demanding boring operations.
For more information, visit www.us.wohlhaupter.com.