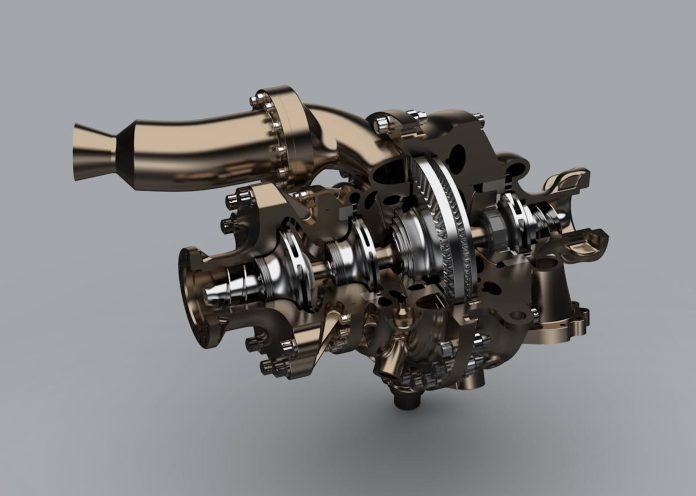 Today we celebrate the Colorado University Aerospace Engineering Sciences, industry partners, and students Zachary Lesan and Patrick Watson, for our Workforce Development focus. This is a story of how two undergraduate engineering students from the Colorado University (CU) Boulder Aerospace Engineering Sciences program worked with industry leaders from CFturbo, Velo3D, Silicon Valley Elite Manufacturing, EMP and others to create an economical and reliable rocket turbopump concept. During their field internships, Zach and Patrick forged great relationships with senior designers from Space X and Launcher, who helped them understand the pathways to solving the most pressing challenges surrounding rocket design and the creation of ideal, single-part, high-performance components for space.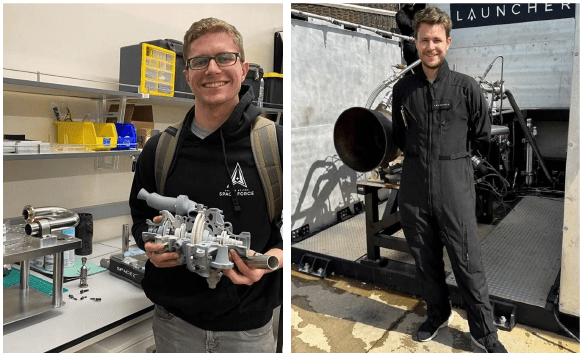 Targeting manufacturing agility, scalability and lower costs
Hard work and good help can pay off, two young engineers have learned. Mixing undergraduate curiosity and real-world engagement together, two students from Colorado University (CU) Boulder Aerospace Engineering Sciences program, Zachary Lesan and Patrick Watson, started an independent effort on turbopump design and manufacture that is a lesson in determination and industry collaboration. Along the way, their project reinforced some significant points being made about next-generation rocketry.
As the aerospace industry speeds toward Additive Manufacturing (AM) as a way to bring new, physics-based designs into higher-performing parts, the race is also on to make space components more reliable, economical, scalable, and producible through agile manufacturing strategies.
How is this being done? All eyes are on metal AM to reach the ideal of single-part rocket construction, where as many parts and sections as possible are combined for material integrity, maximum weight reduction, performance, and speed-of-manufacture.
Maybe one way to start on these bold objectives is to be handicapped with an intern salary, an outside-of-work-and-classroom timeline, and only negotiating skills to secure print, machining and accessory parts. Those factors are likely as strong a motivation as any for adopting quick, lean process approaches.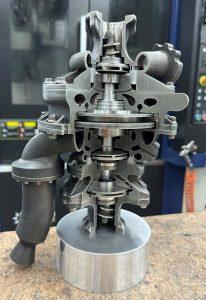 Curiosity fuels a passion
Zach Lesan, the initial lead on this college team of two, conceived of the project in January of 2021 while in his junior year of undergraduate schooling. Watson joined and took over most of the duties in the fall of 2022 once Lesan graduated and began an internship at SpaceX.
Against all odds and the practical wishes of his professors, Lesan pursued his passion for rockets despite the scope of the challenge, academically and financially. "I started this project because I loved rockets and turbomachinery," said Lesan. "I knew how solid-state rocket motors worked and designed them in the past while in high school. However, liquid-propulsion rockets captured my imagination. I wanted very much to understand all the details."
Finding little to no evidence that such a project was taking place formally on the undergraduate level, Lesan decided to dive in. With one graduate-level course on propulsion in progress, he felt confident that he could accomplish something in parallel with his studies. But he had to move fast with graduation approaching.
"I attacked the problem head-on," said Lesan. "It was a huge opportunity to learn component design, complex assembly design, CAD, 3D-printing design principles, and a variety of software modeling solutions to first principles problems."
Learning to solve these engineering problems was an obvious benefit to the undertaking, but it was far from the only challenge to overcome in the design and build process for the turbopump. The hardest, yet perhaps most rewarding, task was to reach out to industry for collaboration partners who could offer 3D printing, machining, off-the-shelf parts such as seals and fasteners—and advice. Such efforts are normally handled by seasoned managers. Yet Lesan, and then Watson, made acquiring partnerships a major element in moving support and production beyond the school-run manufacturing lab to more advanced industrial sites.
Liftoff on collaboration
Early on, with an objective of single-part construction, Lesan went online and contacted metal-AM provider Velo3D through the company's website. He knew from his reading that their advanced laser-powder-bed-fusion (LPBF) print capabilities were central to the production of the SpaceX Raptor engine. This online inquiry led to a conversation with Velo3D's Zach Murphree, VP of Global Sales and Business Development and Gene Miller, Director of Technical sales. Both encouraged Lesan and offered the company's technology and services for the project.
"Zach and Gene were super excited about the project," said Lesan. "And their excitement made me further committed. The design capabilities of the Velo3D printers and their personal encouragement ultimately drove me to go through the whole design process on the turbopump."
Following Lesan's call to Velo3D, another breakthrough happened. With the turbopump redesign underway, Lesan met soon-to-be fellow co-designer Patrick Watson at the CU Sounding Rocket Laboratory (CUSRL). There they discovered a common interest in turbomachinery—and the joint adventure began. "Zach [Lesan] showed me his engineering presentation, and I was blown away by how technically advanced it was," said Watson. "Zach is like a juggernaut. That energy drew me into the project and I felt we could accomplish anything at that point."
The admiration was mutual. "Patrick stepped in around the Christmas 2021 timeframe," said Lesan. "I learned that he was working on turbomachinery through his internship at Launcher [a Vast company]. That set the stage for our collaboration right there. Patrick learned more and more about my initial design in early 2022, and then took over our project entirely that year in terms of getting parts made and working with partners. He carried on with the drawings, manufacturing documents, CFD and final deliverables," said Lesan.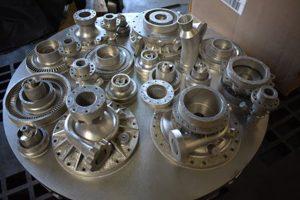 The push toward part consolidation
The last five years have seen tremendous advances made in space and rocket technology. Independent engineers and commercial companies alike are working toward single-part rocket designs and consolidated manufacturing approaches. The goal is to rely less on machining, casting, brazing, and traditional joining techniques that hold back functional performance, decrease reliability and source from a dwindling supply chain. Lesan and Watson embrace these targets as well.
"A lot of companies cast their parts," said Watson. "The real big breakthrough in turbomachinery for space or energy is 3D metal printing, Laser Powder Bed Fusion (LBPF), mostly. We can now print the performance geometries we want, iterate the designs, get the surfaces we need, and use machining more selectively. Metal 3D printing makes our project possible. Zach and I used our intern salaries to fund what wasn't donated or discounted. Imagine us spending tens of thousands of dollars on machining traditional parts or removing support structures."
The academic aims of the Reaper engine (named after a South Carolina hot pepper), were to explore agile and more economical means of rocket manufacture. Both Zach and Patrick understood that the success of this project and, to a degree, the nature of their future aerospace careers, depend on lowering the cost of space flight.
AM benefits inform the design
With his early studies in solid-state rockets as a teenager and so much data on turbopumps in hand since 1960s, Lesan had the basics in place for the design work he was to undertake at CU Boulder. He now needed to create his own MethaLOX model, one that took advantage of advanced metal AM. Here was the only distinction he felt he could make. Turbopumps are a known entity. Lesan didn't expect to improve upon their performance, but perhaps through AM he and Watson could lower costs and improve reliability over existing systems.
Part consolidation serves to boost quality by eliminating component sealing interfaces, an historic source of failure. Turbopumps have long relied upon seals to join their sections. Despite generational advances, seals are still a risk area given the high fluid/gas pressures involved in the pump and turbine units.
"We have gotten rid of so many potential traditional failure modes by minimizing part count," said Lesan. "The issue then with AM is porosity and part verification. We can look at our Velo3D build reports and see there were no errors in the process impacting quality."
"There are some parts we had to buy or conventionally manufacture," said Watson. "The purchased parts are fittings, bearings, seals and fasteners to join flange sections. But otherwise, the focus was on creating a work-friendly, lower-cost system, that avoids traditional fit problems through combined parts. There is a safety issue here, too," notes Watson. "The inner propellent seals, made as one part, is outside the norm. By using a nitrogen-purge system, that is integrally printed throughout the Reaper turbopump housings, we effectively eliminate the chances of propellants mixing and causing catastrophic failure. We are able to reduce leakage losses, avoid performance problems, and even explosions. A single AM-produced part, relying on challenging overhang angles and approaches, accomplishes this goal."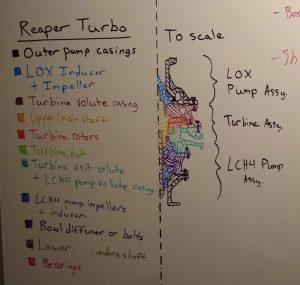 Partner help
Lesan and Watson's fast track to rocket development was aided by many who share a passion for space. From the CU Bolder Aerospace program there was professor John Farnsworth, and Cameron Micksch and Paul Wingrove from the university's machining lab.
Private industry stepped in with software, services, parts and advice. The core team of two did their metal printing with Velo3D, used critical design software and ongoing help from CFturbo, and machining services from Silicon Valley Elite Manufacturing and EMP. They also received seals from Gallagher Fluid Seals and instrumentation from Kulite and Omega. Advice flowed informally from individual engineers at both their internship companies, SpaceX and Launcher, as well as Ursa Major and from Andrew Mitchell, formerly with Masten Space Systems, now Astrobotic.
"The extent of industry collaboration that Zach and Patrick have created is truly impressive," said Sid Raje, Velo3D business Development Account manager. "They have built upon where industry is headed with liquid oxygen and methane propulsion, but the extent of their use of advanced AM for part consolidation and demanding geometries, surfaces and overhangs really stands out. The reduction of post-processing costs and improved system reliability is a lesson they and others will carry forward."
With his industry internship having concluded at SpaceX, Lesan heads into military service as a Space Force second lieutenant. Watson is finishing the final leg of his undergraduate work with a job waiting at Launcher Space (a Vast company). Many hands and minds will continue to finish the Reaper with a goal of flight to the Karman line at 100 kilometers.