A lot of shops have them – loud, inefficient, but necessary. Hydraulic pumps and power units have been the backbone of manufacturing equipment for decades. Servo-driven equipment promises a welcome change, but most are still prohibitively expensive. Huntington Beach based MJC Engineering and Technology, however, is gearing up to launch a new subsidiary – Green Hydraulic Power – which specializes in developing and integrating hydraulic power units with Variable Speed Drive technology (VSD). Green Hydraulic Power units represent trusted technology in an inventive package, offering enormous energy savings, limitless compatibility, and unprecedented affordability.
The manufacturing industry has seen vast improvements in technology over the past thirty years. Machines are faster, more accurate, quieter and more versatile than ever before. But the hydraulic power unit, famous for occupying the dirtiest and noisiest corner of any shop, has changed very little. An electric motor drives a hydraulic pump, which pressurizes a fluid reservoir, and most are operated with little more than an on/off switch. This pressurized fluid is then used to power a broad array of fabrication and forming equipment: die presses, plate rolls, metal shears, spin formers, stamping presses, tube benders, plastic injection molders – by some estimates, millions of individual machines in US shops alone. Despite its universality in manufacturing, hydraulic power, like shop air and electricity, is viewed like a utility – only garnering attention when it isn't working correctly. As a result many manufacturers fail to recognize that their outdated hydraulic power units are costing them money.
The main issue with the standard hydraulic power unit is that they operate at constant volume flow; they run at a fixed speed. Most, lacking any sort of sophisticated control, run nonstop while the machine is in use or idling. Wear and friction anywhere in the pump system reduces the efficiency and longevity of the unit over time. The solution to the problem is a power unit which implements a variable speed drive. Green manufacturing legislation and incentives, in place in Europe for decades, forced the implementation of efficient variable speed drives for environmental reasons, however the resulting savings in reduced energy consumption turned out to be staggering. The same technology has seen only limited adoption in the United States due to lack of incentives, low awareness, and the absence of streamlined, retrofittable implementation and support options on our shores. But a company in California is preparing to launch a product line that will solve these problems.
MJC Engineering and Technology, Inc. is best known for their CNC Metal forming machinery, but they are also a full-service retrofitting operation for fabrication equipment. Their latest project merges their product and service expertise with proven technology to deliver a whole new subsidiary company, Green Hydraulic Power (GHP). When developing Green Hydraulic Power's variable speed hydraulic power units, engineers started with a state-of-the-art SINAMICS servo pump from Siemens. SINAMICS drives have a proven track record of longevity and performance over many years. GHP then built the pump into a self-contained, skid mounted unit capable of fitting into nearly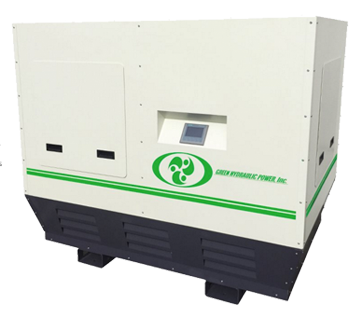 any space. However, the GHP concept goes far beyond simple hardware development – the new product line is focused around customization and integration with existing hydraulic equipment. Green Hydraulic Power will be able to bring nearly any piece of hydraulically-driven equipment into the 21st century.
"We realized early on that making the hydraulic-units compatible with existing equipment would be very important," says Carl Lorentzen, President of Green Hydraulic Power, "we can bring the [GHP] unit into a facility and integrate it into the site in just days with only minimal work flow interruption." The units will be offered in four standard sizes: 100, 200, 250 and 300 gallon reservoirs with up to 4,000 PSI, though the machines' versatile design allows for the easy adaptation of the system to virtually any application or capacity. The GHP concept was developed with the understanding that each application will be unique. Each installation will be evaluated individually by GHP's engineers to determine ideal pressure and capacity specifications, and new hydraulic units will be built-to-order in GHP's California manufacturing facility.
GHP units feature an advanced control system and interface, which monitors and displays multiple KPI's and vital metrics such as flow, temperature, and power consumption. GHP units are fully Industry 4.0 ready and Internet of Things compatible, ensuring that they will integrate seamlessly with existing or future factory floor networks and protocols.
GHP has also taken steps to make their units compatible with any budget. "One of the biggest barriers for our potential customers was the up-front cost of the unit," Lorentzen admitted, "so we made the availability of multiple financing options a priority from the beginning. We will even be offering a low up-front-cost leasing option." Machines can also be leased with a lease-to-purchase option, or acquired on a rental agreement with a minimum rental period. Customer purchase options will also be available.
Perhaps the most impressive feature of GHP units are their astounding power efficiency. Lorentzen maintains that the test units were able, under the right circumstances, to achieve a 70% reduction in power consumption for a given application while simultaneously increasing work output. These results depend heavily on the exact nature of the application, however he stands by the fact that, "in all circumstances, energy savings were quite significant." When including the cost of the GHP unit, customers can expect to see up to an astounding 35% decrease in the cost of ownership of applicable hydraulic machinery. Overall, GHP units are expected to provide rapid return on investment, amortizing in as little as one or two years.
Not only are the new power units easy on the power bill, they are also easy on the people who work with them. GHP units regularly operate at 20 decibels lower than traditional hydraulic pumps, and generate less heat as well. This impressive feature set will make Green Hydraulic Power the easy choice for hydraulic power. "We are very excited about this product," Lorentzen admits, "we think it has the power to make the world a little better, and save our customers a lot of money at the same time."
For more information, contact sales@greenhydraulicpower.com
Visit www.greenhydraulicpower.com or call (714) 333-7367.
[vc_video link="https://www.youtube.com/watch?v=WVvOeXkIb-c&feature=youtu.be"]
[vc_video link="https://youtu.be/xN-0ENCcsD4″]
[vc_gmaps link="#E-8_JTNDaWZyYW1lJTIwc3JjJTNEJTIyaHR0cHMlM0ElMkYlMkZ3d3cuZ29vZ2xlLmNvbSUyRm1hcHMlMkZlbWJlZCUzRnBiJTNEJTIxMW0xOCUyMTFtMTIlMjExbTMlMjExZDMzMTcuODUzMzE5MTA4MDI0NiUyMTJkLTExOC4wMzA3NjY2ODQzMzAxNSUyMTNkMzMuNzM4NjA4ODgwNjkyNDc1JTIxMm0zJTIxMWYwJTIxMmYwJTIxM2YwJTIxM20yJTIxMWkxMDI0JTIxMmk3NjglMjE0ZjEzLjElMjEzbTMlMjExbTIlMjExczB4ODBkZDI1ZTVhMGJkZjAyZiUyNTNBMHhiZTljYTRhNGFkY2ExMWFiJTIxMnMxNTQwMSUyQkFzc2VtYmx5JTJCTG4lMjUyQyUyQkh1bnRpbmd0b24lMkJCZWFjaCUyNTJDJTJCQ0ElMkI5MjY0OSUyMTVlMCUyMTNtMiUyMTFzZW4lMjEyc3VzJTIxNHYxNDU1NTY4NzM4Nzc4JTIyJTIwd2lkdGglM0QlMjI2MDAlMjIlMjBoZWlnaHQlM0QlMjI0NTAlMjIlMjBmcmFtZWJvcmRlciUzRCUyMjAlMjIlMjBzdHlsZSUzRCUyMmJvcmRlciUzQTAlMjIlMjBhbGxvd2Z1bGxzY3JlZW4lM0UlM0MlMkZpZnJhbWUlM0U="]