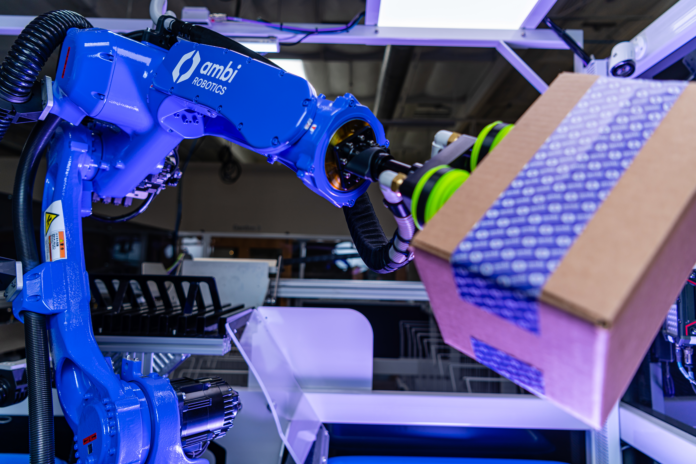 The degree of complexity in consumer requirements is higher than ever. Paired with the booming domain of digital e-commerce amidst on-going supply chain disruption and skilled-labor shortages, businesses are faced with unprecedented challenges. Savvy business leaders are implementing a variety of Industry 4.0 technologies to create smart manufacturing and fulfillment environments that solve some of the fluid factory workflow, product assembly, and packaging production challenges that exist in today's environment.
Safe, reliable and efficient, the combined use of highly flexible robots with intelligent peripherals is a huge game-changer for these companies looking to maintain high quality standards and consistent product throughput for optimal customer satisfaction.
Task-specific Robotic Automation
Robot suppliers and integrators continue to innovate robust material handling solutions that can easily mesh with existing equipment, and facilitate the goods to consumer process. From fast, agile and compact robots for primary and secondary requirements, to higher payload extended-reach models for end-of-line tasks, many solutions can be designed to work safely with or alongside humans to create a more resilient workforce. Complete turnkey robotic solutions are also helping businesses adapt for greater competitive edge.
Expected to represent 30 percent of capital spending in the next five years, robotic usage for the logistics and fulfillment of retail and consumer goods will continue to grow, accounting for the highest share among industrial segments, according to a 2022 study by McKinsey & Company entitled "Unlocking the Industrial Potential of Robotics and Automation." With the bulk of heavy investment focused on dedicated solutions for picking, packing and palletizing, many robotic solutions are currently centered on the following material handling tasks:
High-Speed Parcel Induction
Often a bottleneck for production environments, the manual identification of boxes, envelopes and polybags (often from a conveyor) for sorting or further diverting to a specific destination is tedious work that opens the door to worker injury and processing inaccuracy. To prevent this situation and stay competitive, business leaders are modernizing the parcel sortation process and implementing extremely flexible solutions that are easily integrated with a wide range of traditional equipment.
Especially advantageous for small parcel fulfillment, high-speed and space-efficient induction workcells are being used to address capacity shortages for increased efficiency. Engineered with a blend of artificial intelligence (AI) software, robust machine vision, flexible gripper technology and more, these smart systems accurately identify items and determine how to handle them.
Not only does this intelligent technology enable high-performance robots with adaptive motion control to identify, track and pick each item at the precise speed and grip required regardless of weight, size and orientation, but also, it facilitates the meticulous maneuvering of items for rapid sortation or singulation for downstream processing. Depending on application requirements, robot pick rates range from 1,000-2,000 picks per hour (PPH), creating dynamic yet error-proof product flow. Multiple workcells or multi-robot cells also enable robots to work collaboratively along the same fulfillment line for maximum throughput.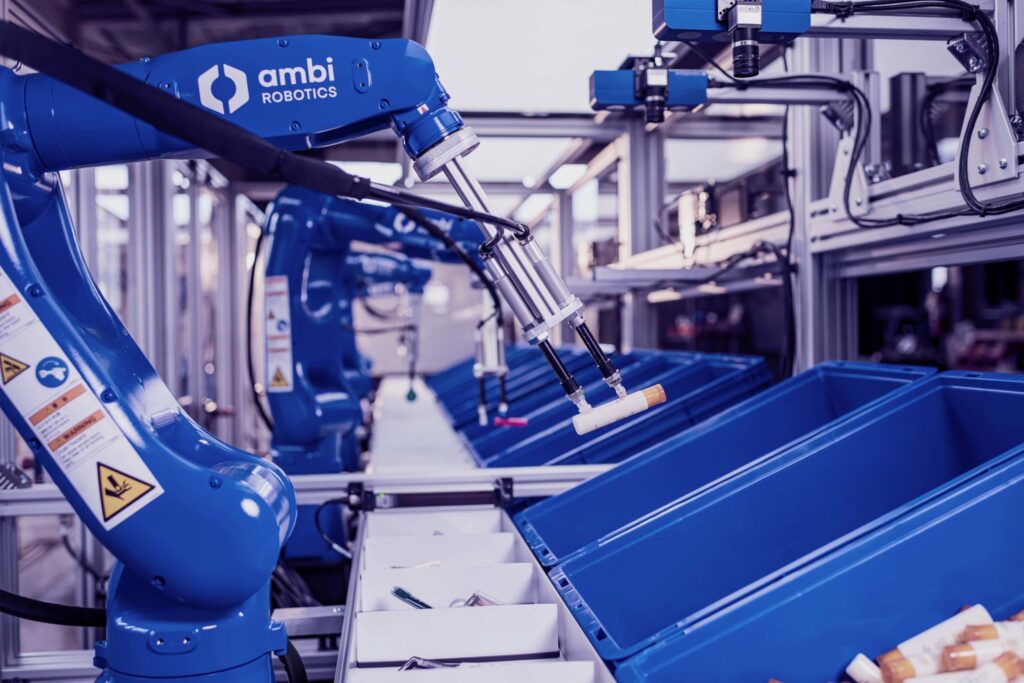 High-Mix Kitting
Another labor-intensive task prone to worker injury and fulfillment inaccuracy is kitting – the act of picking an item from a supply tote and bundling it with other multiple product stock-keeping units (SKUs) into a single box, bin or bag. From monthly subscription boxes and meal packs to medical kits and more, this fast-growing application of robotic automation facilitates the rapid building of unique kits for emerging high-growth brands.
Like induction, modern AI and deep learning platforms enable robots with optimized end-of-arm tooling (EOAT) to easily adapt and handle a large range of ever-changing items. By combining advances in artificial intelligence and simulation with modular hardware configurations, leading solution suppliers can build highly dexterous solutions that scale as operations grow. The learning data generated from the simulation process effectively teaches a robot which path and points it can realistically and stably accommodate.
Configurable robotic solutions refined using advanced operating systems that leverage simulation-to-reality (Sim2Real) technology or unique 3D perception systems enable quick implementation of a robot system for accelerated uptime. Match this with the ability to pick and sort approximately 60 items per minute with 99 percent accuracy and return on investment is often quickly realized.
Flexible Case Packing
To gain efficiencies and drive leaner operations, robots are being used more frequently for high-volume case packing, where goods from a conveyor or sorter are picked then packed inside a larger carton for shipment or storage. Similarly, the uptick in the variety of case sizes, styles and counts, as well as the usage of retail-ready and reusable packaging, is met head-on via fast, flexible robotic automation.
Whether a single robot with quick-change EOAT is integrated into an existing line, or a complete packing solution with high robot density is installed on the production floor, robotic automation completes this highly repetitive job quickly and accurately with less labor for noticeable cost savings. Depending on application requirements, robots can load products vertically or horizontally – another benefit of these extremely versatile machines. Other tasks, including case erecting and case sealing, are also viable applications being addressed by robots.
To successfully identify objects and properly position them with the utmost speed and precision, the same form of AI-driven or 3D perception technology used in parcel sortation and kitting can be applied. As with the other applications, case packing typically realizes the same transformative results for throughput and quality.
Mixed-Case Palletizing
A tertiary stage of order fulfillment, robotic palletizing continues to be a rapidly growing area for robot implementation – much in part to its ease of integration and ability to optimize worker safety, order accuracy, product quality and throughput capacity. This is especially true for mixed-case palletizing.
While the palletizing of homogeneous layers of any single SKU is quite common in traditional palletizing applications – where no robotic vision is used and offline programming software helps create pallet patterns for virtually any mix of SKUs – manufacturers and distributors are turning to mixed-case palletizing for a more intelligent and flexible approach to handling demand-driven loads.
Able to handle and stack multiple SKUs within a layer – where dissimilar packages such as boxes, bottles, bags and more are used – mixed-case palletizing is made possible through enhancements in machine vision, deep learning and AI with software intelligence. Product characteristics drive the pallet build algorithms that correlate data, such as sequence and orientation of packages in relation to the robot and gripper coordinates. Extremely perceptive, the software helps place large, heavy products on the bottom of pallets, while small, lightweight objects are positioned on top of loads. In short, user-friendly software creates more flexible palletizing systems for adapting to dynamic industry change. Handling and shipping costs, including carrying costs per SKU, are also typically lowered.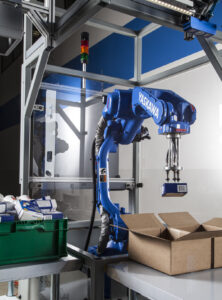 Truck Loading and Unloading
Whether for delivery or facility-to-facility distribution, truck loading and unloading thrives on organization. Once a chaotic process, the transfer of packages to and from a vehicle (or vice versa) is easily achieved with the appropriate robot and peripheral tools.
A long-reach robot capable of reaching the entire volume inside the truck to retrieve or place packages is ideal. Proper end-of-arm tooling (EOAT), a capable vision and processing system, as well as a suitable conveyor system can quickly, accurately and ergonomically handle packages. Highly important to facilitating the loading and unloading process, robotic automation's ability to stack sorted packages in an organized Tetris-style manner for transport is a competitive edge game-changer.
Greater Operational Resiliency
The shift from mostly manual operations toward smart robotic automation solutions, such as the ones discussed, can provide transformative benefits for productivity gains. Add in the use of motion control platforms or Programmable Logic Controller (PLC) solutions that provide a standard programming environment for easy robot setup, and companies are better positioned to navigate production struggles for supply chain fluidity. The use of enterprise resource planning (ERP) or integrated asset management solutions – that support multiple brand devices and collect information in real time for data-driven optimized planning – are also helping to unify critical business functions for long-term success.
While no single robot or robotic system is a one-size-fits-all solution, implementing one can enhance process speed and production reliability – something that many operations are currently seeking. To discover how robotic automation can shore-up your end-to-end packaging operations, reach out to a local robot supplier or integrator.