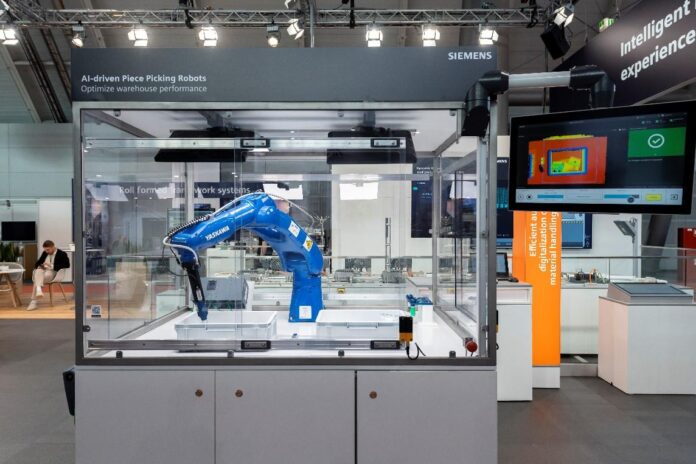 Piece Picking Robots AI — Piece-picking robotic AI enabled by SIMATIC Robot Pick — pre-trained runtime vision software for Piece-Picking Robot applications and beyond, based upon deep learning
Perception-based analysis chooses the most reliable 3D pick poses (6DoF) at runtime on arbitrary items, regardless of shape, size or packaging
Modular approach for need-based solutions, supporting 3D camera sensors from various suppliers (from low-cost to high-definition) — fast, guided commissioning and troubleshooting
Seamless integration with the SIMATIC automation platform and TIA Portal engineering framework, SIMATIC Robot Library allows manufacturer-independent programming of industrial robots on PLCs with uniform operation on HMIs
Increasing labor shortages, costs, and consumer demands drive the mission-critical need to automate today's manually performed piece-picking tasks in warehouses and beyond. Siemens intends to democratize access to AI-driven robot technology, pushing today's automation boundaries towards cognitive industrial automation with superior flexibility and empowering more suppliers developing in-house solutions to participate in this emerging opportunity.
SIMATIC Robot Pick AI (robot skill) is a pre-trained, deep-learning-based vision software for advanced robotics applications like goods-to-robot order bin picking that provides out-of-the-box cognitive performance for selecting robust pick points (6-DoF grasp poses) for arbitrary "unknown" items at runtime.
Especially applicable for items in general e-commerce, e-grocery, fashion, or pharmaceutical retail and is proven in applications worldwide. A specific, less flexible CAD model training by the user is no longer necessary (generic, model-free robot grasping).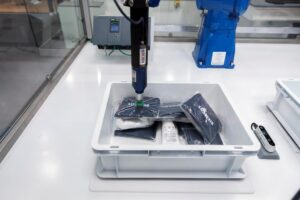 Complex use cases with arbitrary items of various shapes, sizes, and packaging can be reliably automated with a pick success rate of over 98% on the first attempt. Two percent is equivalent to the error rate of a human performing the goods-to-person order bin-picking task. Even challenging image-based scenarios, such as tightly packed items or items at the outer rim of the bin, will be accomplished. Changed bin positions and empty containers are detected automatically at runtime. The identified pick points are provided via standard APIs for execution in the user application with any 6-axis robots. In addition, various suppliers' 3D cameras (RGB-D) are supported as sensors (from low-cost to high-definition). Guided commissioning is achievable in less than 20 minutes (after installation and calibration of the 3D sensor). With fast computation times, high pick rates of over 1,000 picks-per-hour (PPH) are achievable – depending on the runtime hardware used.
SIMATIC Robot Pick AI
SIMATIC Robot Pick AI is deployable on IPCs with the Linux operating system and can run even on smaller standard IPCs without a dedicated GPU or AI accelerator. Fast computation times allow high pick rates. A unique, easy integration of our deep learning vision software into the SIMATIC platform and the TIA Portal engineering framework can be achieved by deploying it on SIMATIC IPCs or the SIMATIC S7-1500 TM-MFP. AI-driven robots can contribute to the flexibility to process high variances of objects with different shapes, sizes, and packaging types in dynamically changing situations. SIMATIC Robot Pick AI aims to enable more solutions in line with the market for this emerging market challenge and to accelerate market acceptance of this complex technology by making it easy to access.
About Siemens Digital Industries (DI)
Siemens Digital Industries (DI) is an innovation leader in automation and digitalization. Closely collaborating with partners and customers, DI drives the digital transformation in the process and discrete industries. With its Digital Enterprise portfolio, DI provides companies of all sizes with an end-to-end set of products, solutions and services to integrate and digitalize the entire value chain. Optimized for the specific needs of each industry, DI's unique portfolio supports customers to achieve greater productivity and flexibility. DI is constantly adding innovations to its portfolio to integrate cutting-edge future technologies. Siemens Digital Industries has its global headquarters in Nuremberg, Germany, and has around 75,000 employees internationally.
About Siemens Corporation
Siemens Corporation is a U.S. subsidiary of Siemens AG, a technology company focused on industry, infrastructure, transport, and healthcare. From more resource-efficient factories, resilient supply chains, and smarter buildings and grids, to cleaner and more comfortable transportation as well as advanced healthcare, the company creates technology with purpose adding real value for customers. By combining the real and the digital worlds, Siemens empowers its customers to transform their industries and markets, helping them to transform the everyday for billions of people. Siemens also owns a majority stake in the publicly listed company Siemens Healthineers, a globally leading medical technology provider shaping the future of healthcare. In addition, Siemens holds a minority stake in Siemens Energy, a global leader in the transmission and generation of electrical power. In fiscal 2022, which ended on September 30, 2022, Siemens Group USA generated revenue of $18.6 billion and employs approximately 45,000 people serving customers in all 50 states and Puerto Rico.
SUBSCRIBE to our Complimentary Publications: