Volz Tube and Hose Fittings Available Internationally
Volz tube and hose fittings made from high-grade stainless steel 1.4571 (316Ti) ensure the safety of hydraulic systems all over the world. They are engineered and manufactured at the company headquarters in Deilingen/Germany and are internationally available through the company's own subsidiaries and sales partners.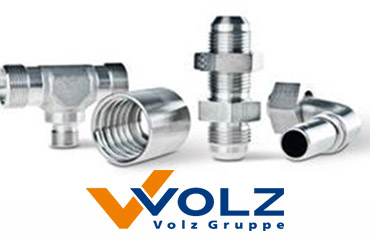 Volz is one of the few fittings manufacturers with their own production facilities to produce stainless fittings – this allows Volz to offer the largest selection of high quality stainless steel fittings. These include: hose fittings, metric compression (DIN 2353), 37° flare tube connections (JIC), threaded adapters, non-return and shuttle valves.
The product line includes certified JIC fittings, which were specially developed for markets outside of Europe. Along with the connections for ridged tube fittings, an extensive range of universal hose fittings, interlock hose fittings, weld and push-lock hose fittings are always available off the shelf at short notice from international sales partners. They are matched with common hose types (EN, ISO, SAE) as well as private label brands and are available in various thread types. Internal tests under extreme conditions and certifications from 3rd party independent organizations for hoses provide matched product for manufacturers such as Gates, Manuli and Eaton SEL. Many assembly and system manufacturers have also approved combinations of certain hose types with Volz fittings.
 High quality ensures safety
"Our demands on quality begin with material selection," says Ralph Wolter, Director of Marketing and Business Development at Volz. "In contrast to many competitors, we always use high-grade stainless steel 1.4571 (316Ti)." Rod material and forging blanks come exclusively from European countries. According to acceptance test certificate 3.1., exact batch tracking of the raw material up to the melt is possible. "We supply to industries in which leak free fittings must be guaranteed even under extreme conditions," says Ralph Wolter. Stainless steel 1.4571 is extremely corrosion resistant, to saltwater and acids for example, it is suitable for high temperatures and more resistant to intercrystalline corrosion than materials of lower quality.
About Volz
The Volz Group has entered increasingly more sectors and international markets with its stainless steel product line in recent years and is currently esteemed not only for the quality of its products but also for their high availability. Volz is internationally involved with sales corporations in the USA, Turkey, the Ukraine, Australia, and Singapore. Trade partners all over the world are not only supplied from here, but also trained and qualified for customer consulting. Since Volz also produces normal carbon steel fittings along with stainless steel fittings, customers are competently advised in the material selection for various applications.
For more information visit: www.volz.de.