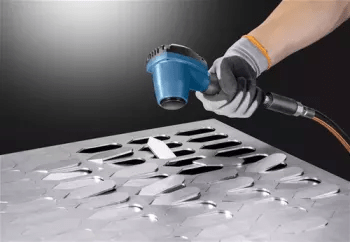 TRUMPF has launched a new part separation tool that makes work easier for companies with highly productive 2D laser cutting machines. The TruTool PS 100 part separator tool removes small parts quickly and easily from the scrap skeletons of processed sheets.
Once small parts are cut out on flatsheet laser cutting machines, they remain connected to the sheet's scrap skeleton by small cross beams, also called tabs or joints. To release the components, operators often use a hammer or similar tool. This method can be time-consuming, tedious, and risks operator injury as well as potential damage to the parts.
To prevent damage to parts as they are removed, the TruTool PS 100's rubberized hammer tips can be customized to meet different requirements. A medium-hard hammer tip is used as standard. It is primarily suitable for mild steel and medium sheet thicknesses. The optional soft hammer tip ensures careful handling of aluminum and non-ferrous metal parts. A third option, the hard hammer tip, increases impact intensity and creates advantages in thicker sheet metal and high strength materials.
About TRUMPF
TRUMPF is a high-tech company offering manufacturing solutions in the fields of machine tools and laser technology. The company drives digital connectivity in the manufacturing through consulting, platform products and software. The company is a technology and market leader in highly versatile machine tools for sheet metal processing and in the field of industrial lasers. In 2021/22, the company employed approximately 16,500 people and generated sales of about 4.2 billion euros. With more than 80 subsidiaries, the TRUMPF Group is represented in nearly every European country as well as in North America, South America, and Asia. The company has production facilities in Germany, France, the United Kingdom, Italy, Austria, Switzerland, Poland, the Czech Republic, the United States, Mexico, and China.
SUBSCRIBE to our Complimentary Publications: