New Mazak TOOLTECH Stores Big Tools in a Small Space
Compact magazine system makes set up of large, heavy tools fast and effortless.
Mazak's new TOOLTECH compact tool magazine stores big, heavy and large-diameter tools within a very small amount of required floor space. Plus, special tool carts and docking stations eliminate the need for operators to manually lift tools in and out of the system, so tooling set ups are faster, easier and safer.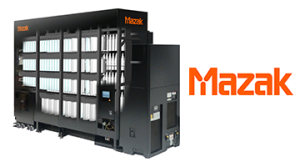 TOOLTECH accommodates up to 206 tools in the same amount of space required for a 120-tool chain-type magazine storage system. This economical use of space results from the fact that TOOLTECH efficiently organizes tools according to their lengths and diameters and stores them in racks – one type designated for tools with diameters bigger than 100 mm, the other for diameters less than that size.
With its carts and docking station, TOOLTECH ensures easy and safe handling of tools with diameters up to 360 mm, lengths to 800 mm and weighing as much as 40 kg. Operators simply roll one of TOOLTECH's tool carts to where the shop's tools are stored, place any needed tools onto the cart and push it directly into the storage system's magazine tool-docking station where the tools load into racks. A user-friendly touch screen control panel provides operator convenience and intuitive system operation.
As a shop's tooling needs increase, TOOLTECH's storage capacity can expand – to as many as five levels and the capacity to hold 250 tools – with a simple extension of its frame at the rear of the system.
About Mazak Corporation
Mazak Corporation is a leader in the design and manufacture of productive machine tool solutions. Committed to being a partner to customers with innovative technology, its world-class facility in Florence, Kentucky, produces over 100 models of turning centers, Multi-Tasking machines and vertical machining centers, including 5- axis models.
Continuously investing in manufacturing technology allows the Kentucky iSMART Factory to be the most advanced and efficient in the industry, providing high-quality and reliable products through its "Production-On-Demand" practice. Mazak maintains eight Technology Centers across North America to provide local hands-on applications, service and sales support to customers. For more information on Mazak's products and solutions, visit www.mazakusa.com or follow us on Twitter and Facebook.