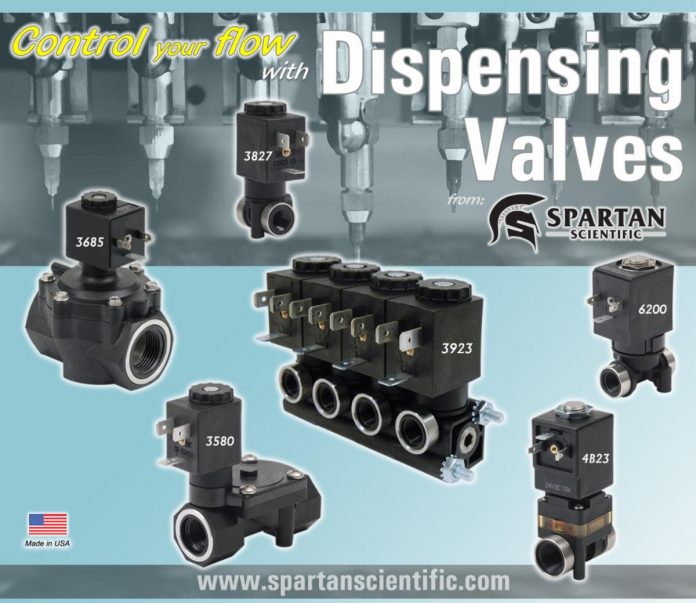 Dispensing Valve Systems from Spartan Scientific can be utilized in any type of hot or cold water applications such as car washing systems, hot/cold drinking dispensers, tank drains, compressors, vacuum pumps, cleaning equipment, and within the farming and agricultural industries.
Each and every individual valve is 100% quality tested by our professionally trained quality inspectors and must pass a series of extensive tests to insure the most reliable and durable solenoid valves on the market.
Spartan Scientific offers many different valve configurations including valve functionality, NPT port sizes, voltage options, orifice sizes, and flow volume.
Each Solenoid Valve has an IP65/NEMA 4 Environmental Protection Rating and can be manufactured using NSF approved materials or Water Hammer resistance.
Spartan Scientific supports all CAD systems on the market and is ISO 9001:2015 Certified in Design and Development.
With Spartan, you are not only getting peace of mind, you're also getting a high quality product and exceptional customer service.
About Spartan Scientific
Spartan Scientific was formed in 1987 with a mission to redefine industrial solenoid valves and related products. We started with DIN quick connect solenoid coils, quick mounting solenoid operators and interchangeable coil versions. Spartan has effectively reduced installation costs and related setup while reducing retrofits and service times. Spartan solenoid valves incorporate fully encapsulated coils and the highest quality brass and stainless steel in every assembly. Our solenoid operators can be placed directly into your assembly for a neater, more compact end product which meets functional as well as aesthetic demands. Many of the products manufactured by Spartan Scientific are specials, or variations of standard products.
Spartan strives to meet tough challenges with innovative design. If you do not see a specific valve or accessory, please ask one of our sales consultants for additional information or the possibility of Spartan producing a special product for your application. We are known for our quality solenoid valve timers, electronic shut off valves, air compressor drain valves, condensate drain valves and water drain pump valves.