Sinamics S120 Drives and Simotics S-1FG1 Servo Geared Motors from Siemens
Flexible servo drive system for demanding geared motor applications
Siemens has expanded its extensive drive portfolio for servo applications to include the Simotics S-1FG1 servo geared motors, which are designed for use with the Sinamics S120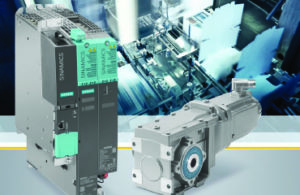 drive system.  Sinamics S120 drives and Simotics S-1FG1 servo geared motors are an integral component of Siemens Totally Integrated Automation (TIA), which reduces engineering time and costs.  Pre-fabricated Motion-Connect signal and power cables offer an easy and reliable method of connecting the components.  The units have electronic rating plates and the motors are connected via the Drive-Cliq system interface, so the system can be brought online quickly.
The engineering of the Simotics S-1FG1 servo geared motor includes high efficiency and low torsional backlash for precise, dynamic motion sequences and is available in the following versions: helical, parallel shaft, bevel and helical worm gearboxes with up to 25 transmission ratios, depending upon the type of gear and gear size required.  The helical gearing of the gearboxes reduces noise and offers high efficiency.
With its highly integrated functionality and scalable number of axes, the S120 drives are suitable for use in a number of demanding motion control applications such as printing and packaging machines, storage and retrieval machines, material handling conveyor systems and dosing pumps.  The high-performance single and coordinated multi-axis drives with servo control enables ideal solutions for an increase in overall line productivity and flexibility.
The Sinamics S120 drive system is available in blocksize and booksize hardware types for use with the servo geared motors.  The power units or motor modules in booksize format have been redesigned in the 3–30A range.  Power units with a triple overload capability and the integration of the motor connection system into the motor module save a considerable amount of space in both height and width in the control cabinet.  The newly developed connection method allows fast, easy and reliable assembly and wiring, while the optimized shielding design and improved thermal separation between power semi-conductor and electronics also ensure greater ruggedness.
The small diameter of the plug-on pinion inserted into the motor shaft enables the first gear stage to render a high transmission ratio.  In turn, this means that a two-stage gearbox can be used for many applications as an alternative to a more costly three-stage unit.
For specific product information and inquiries, call (800) 879-8079 ext. Marketing Communications or send an e-mail to: mc.us@siemens.com.
About Siemens USA      
Siemens Corporation is a U.S. subsidiary of Siemens AG, a global powerhouse focusing on the areas of electrification, automation and digitalization. One of the world's largest producers of energy-efficient, resource-saving technologies,
Siemens is a leading supplier of systems for power generation and transmission as well as medical diagnosis.
With approximately 348,000 employees in more than 190 countries, Siemens reported worldwide revenue of $86.2 billion
in fiscal 2015. Siemens in the USA reported revenue of $22.4 billion, including $5.5 billion in exports, and employs approximately 50,000 people throughout all 50 states and Puerto Rico.