NEW SHOP FLOOR SOLUTIONS DISPLAYING AT FABTECH 2016, BOOTH C13109
Shop Floor Automations brings its latest manufacturing tools to Fabtech in Fall of 2016.
Shop Floor Automations (SFA) will present their many manufacturing munitions at Booth C13109 for Fabtech 2016. From software updates to new hardware, the nearly 20-year- old company is furthering their enhancement of the manufacturing field.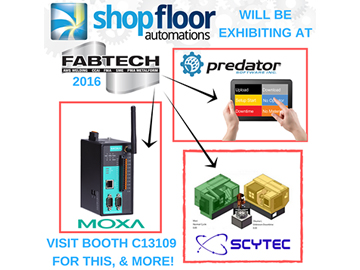 A Predator Software reseller since 1998, SFA will inform tradeshow attendees about new software versions, plus the functional and flexible Touch HMI. Other than Touch HMI, Predator Software updates, with specific solutions for machine monitoring, DNC communication, CNC program editing, document control, and tool management, will soon be available to view at Fabtech.
Want to replace bar code readers, hand-held terminals, or proprietary shop floor hardware? Want simplified data collection to see why your machines are down, and be able to access this info via a tablet, PC, or via the CNC Controller? Need buttons to transfer NC programs, or launch the part drawing on the shop floor for the operator? Predator Touch HMI changes the need to invest in hardware and provides shop floor operators an easier way to interact with management and the Predator Software line. Custom color-coding options, plus setting up specific layouts, prompts, and launching of third party applications, can be integrated by SFA for the end user as desired without a large investment!
Speaking of software updates, DataXchange Machine Monitoring from Scytec will be experiencing changes that tradeshow attendees can learn about. New OEE charts, views from their real time dashboard, multiple part time analysis reports, a shop floor layout view in the dashboard, and various equipment status comparison charts that analyze equipment utilization across a span of different days are all new features. Scytec pricing now includes a greater quantity discount for machine monitoring when adding machines with MTConnect, Fanuc Focas, and legacy machine tools. DataXchange can also be used via the Cloud, or On-Premise, which offers more freedom for users.
The new SFA Connect Series boasts products such as the USB Connect, Floppy Connect, LAN Connect, Ethernet Connect, and more. All Connect products help machine shops enhance productivity, empower machinists, and eliminate inefficiencies such as downtime with automation tools that make operations more effective. The new piece of the Connect Series, the Multi Connect, was developed in partnership with Moxa and will be available from SFA soon. Exclusive early info and an in-person preview of the Multi Connect will be available at Fabtech, and you can get more info by contacting their sales team at (877) 611-5825.
There are many other software and hardware solutions SFA will be able to chat with tradeshow attendees about at Fabtech 2016. The show takes place from November 16th to 18th in Las Vegas, Nevada. SFA will be exhibiting in the Center Hall in the Metalform section at Booth number C13109.
More info on SFA, a leading automation solutions provider for the manufacturing industry
since 1998, and their exhibit at Fabtech 2016 is here: www.shopfloorautomations.com/sfa-fabtech-2016/.
About Shop Floor Automations
Founded back in 1998, Shop Floor Automations, Inc. (SFA) started as a small company focused on distributing the Predator Software product line to the San Diego and Los Angeles markets of California.  Within 6 months, the company expanded to cover the entire West Coast as a reseller with the goal to be the #1 reseller in a year.
The goal was met in 1999 when SFA was awarded the status of largest distributor of Predator Software in North America. SFA has been ranked #1 in Predator Software Sales, Service and Support for the past 15 years running.
For more information, visit www.shopfloorautomations.com.