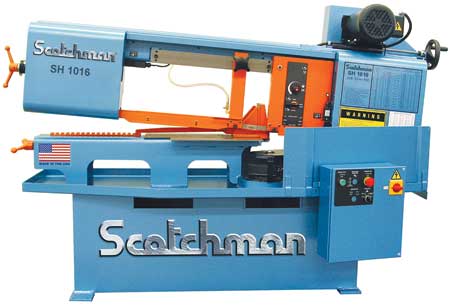 At Scotchman Industries®, developing, testing and evaluating equipment is a big part of what we do everyday.  It's our job to make sure the products we sell live up to our customer's expectations.  For us, that is business as usual.
We have recently improved our 1016 Band Saw Series! This series includes our FH1016 (fixed head) & SH1016 (swing head) band saws. Improvements include a NEW LOOK with radius band blade doors for greater strength, forklift slots are now build-in, band door interlocks are standard and the coolant tank is new & improved with larger coolant capacity and chip removal.
The 1016 capacities are 10″ x 16″ at 90º and 10″ x 10-3/4″ at 45º and they are powered by a 2HP infinite variable speed drive motor allowing the saw to run at speeds ranging from 105 to 275 fpm.  The hydraulics feature a fine adjustment of the head feed control, quick approach and head hold for easy line up of marks.  The optional pneumatic head raise and vise are available for a full-cycle machine.
These high quality machines are made in America and come with an outstanding 3-Year Warranty!
About Scotchman Industries
Scotchman Industries was founded in 1967, and has been providing quality materials and construction, dependable performance, competitive pricing, and service to its consumers ever since.  As the world and its markets change and expand, Scotchman Industries continues to grow and adapt.