Schütte Linear Grinder Changes The "Face" Of Crowley Tool
Tennessee leader in insertable form tools uses specialized grinder and software to speed production of custom HSS and solid carbide rounds
Crowley Tool Company, located in the Nashville suburb of Hendersonville, TN, specializes in the design and manufacture of industry-recognized, high-quality custom insertable form tools for all makes and models of multi and single-spindle screw machines.  An ISO 9001:2008 certified shop with 36 years of experience, Crowley's specialized tooling packages have become the go-to system for many turned parts manufacturers, including major OEM's and large production shops.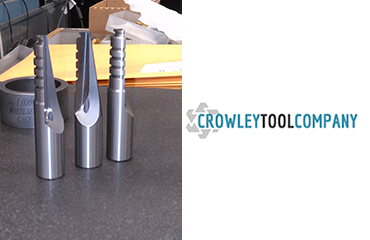 For OD work, Crowley offers a full line of quick-change form and shave tooling systems in dovetail, circular, flat form and modular configurations.  Crowley's modular system offers superior rigidity and yields faster tool changes than conventional tool systems and comprises up-cut, down-cut and shave cross-slide holders.  This modular tool holder system comprises two basic assemblies, namely a modular insert holder and a fully-adjustable cross-slide base holder assembly.
Onboard are adjustments for taper, diameter, center-height and lateral movement.  For ID work, Crowley manufactures either HSS, solid carbide or insertable versions of recess tools, multi-flute reamers and counterbores.  Working from customer part prints and process layouts, Crowley is able to produce ideal solutions to many cutting challenges for its customers.
Company President Ed Crowley cites an ongoing concern for his company and how one supplier, whom he says has changed the "face" of his company, solved it.
"We do conventional grinding galore here at Crowley.  Because so much of our work is unique, with maybe 20 pieces being a big order for us, we spend considerable time in setups and fixturing time.  About ten years ago, we attended a PMTS show in Columbus, where we saw a Schütte grinder that had some amazing features that we knew would make a difference for our operation."
Owing to budget limitations at that time, Crowley notes, he was not able to purchase a new machine, but heard from one of the sales and support specialists at Schütte that a used machine was available.  After some training and familiarization with that equipment, the Crowley operator, Eddie Boland, an experienced machinist, took the controls.
He states, "When we had any issues with the mechanical side of the machine, Matt was there to help.  Likewise, when software questions arose, Scott Topa was there with the answers, very quickly.  They were both able to resolve everything for us and that kept us productive.  The machine made a difference in our grinding operations, almost immediately."  He notes the past procedure involved individual flutings, with considerable handwork and setup, while the Schütte machine and its SIGSpro software had all the cuts included in the program, allowing the same chucking to be used.
Another feature on the machine that Boland appreciated was the virtual running ability, either onscreen or offline on a pc.   "This gave us the flexibility to test new machining approaches without tying up the machine, plus all rake angles, preset and offset values could be adjusted on the fly."  As Scott Topa, the Schütte software and programming specialist observes, "We have a team of engineers developing specialized grinding software, in conjunction with our CNC supplier, to allow customers the ability to create their own programs and adapt to changing conditions of materials without a problem."   As Eddie Boland notes, the shop runs approximately 60% carbide in M42 and T15 HSS, plus other tool steels and some aluminum alloys.
After several years of use, Ed Crowley came to a decision.  With the purchase of a new Schütte 325linear grinder with latest generation of SIGSpro grinding software, the company made a significant leap forward in its production.
He explains, "We run some very complex fluting patterns, with ID/OD relief and stepped configurations.  Often, our customers require 3, 6 and 12 set packages.  As a lot of our customers are doing automotive, defense, aircraft, valve stem, connector, transmission and specialized fitting work, they have exceedingly high quality expectations.  So do we.  In the last few years, we've started to run the new machine able to communicate on a network, we can back up all the production data for our customers as well as our own QC."
As Crowley further explains, these requirements put the shop onto some new paths in their tracking protocols and he cites the team at Schütte being particularly helpful in assisting Crowley Tool in that process.
On the new machine, the 3D simulation on the SIGSpro software, designed for modular flexibility, offers Eddie Boland, the Crowley operator, a simple Windows-based menu plus onscreen simulation of the cutting path, which can also be run offline on a pc, saving considerable machine uptime and eliminating the need for the company to purchase additional simulation software.  As Ed Crowley muses, "If you can think it, SIGSpro and the machine control can make it happen."
For its own design work, Crowley Tool utilizes Inventor 3D CAD software.  On the machine, SIGSpro is a GUI and Schütte provides all the offsets automatically, when programs are slightly altered, for example, to produce a dedicated and matched tool set or family of parts.
Remote diagnostic capability on the CNC, Boland adds, gives the Schütte team the ability to "look inside" the machine during operation to gauge performance, resolve issues in-process and even make suggestions to the operator on how a particular cutting sequence might be improved.  "Matt and Scott can take my suggestion, implement it into the software and literally re-program the machine.  I can also send them a 2D pdf electronically and the change can be made almost immediately.  What a difference that's made in our productivity here."
The Schütte 325linear grinding machine has two auxiliary slides with a large machining area of 400mm x 250mm x 250mm (X,Y,Z) and 5-axis dynamics.  At Crowley, the machine is utilized for the production of material removal tools, so the precision of the rake angles, for example, is paramount.  The software allows an onscreen 3D simulation of the entire cutting sequence, showing the distance from the cut edge or rake angle as a colored value on the simulated tool, so the proper grinding wheels can be selected more easily, depending on the material surface and appropriate geometry.    The cycle simulation also anticipates possible collisions with the tool guidance system or other moving machine parts.
Ed Crowley concludes, "This was a major capital investment for our shop and it's made a significant improvement in our operation.  You could say it's changed the 'face' of Crowley."
For further information, please contact:
CROWLEY TOOL COMPANY
190 Molly Walton Road
Hendersonville, TN 37075
Phone:  615-824-5594
www.crowleytool.com
Attention:  Ed Crowley, President
OR
SCHUTTE L.L.C.
4055 Morrill Road
Jackson, MI  49201
Phone:  517-782-3600
www.schutteusa.com
rfq@schutteusa.com
Attention:  Matt Morgan