REPEL RAINWEAR™ .22 MM EVA ULTRA-LIGHTWEIGHT 60″ RAINCOAT
New Ultra-Lightweight EVA Raincoat Provides Extra Coverage
Galeton, a leading supplier of quality work gloves and personal protective equipment, has recently expanded its popular line of Repel Rainwear™ to include the #12356 Repel Rainwear™ .22 mm EVA Ultra-Lightweight 60" Raincoat in Green, Yellow, or Black.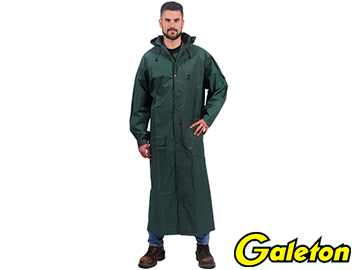 Repel Rainwear™ Ultra-lightweight EVA 60" raincoat is ideal for people over 5'9" who want to keep the rain off their legs and out of their boots. This 60" .22mm EVA riding coat is durable yet flexible and stands up to the foul weather. EVA material maintains its rubber-like elasticity even at temperatures down to -20F. It's less than a third of the weight of PVC!
The coat's features include:
Detachable HoodVented Back
1 Interior Pocket and 1 Exterior Flapped Pocket
Non-Metallic Snap Front with Storm Flap
Badge Holder
Inner Leg Snaps that can fasten around legs to form riding chaps
Snap Adjustable Wrist Cuffs
About Galeton
Since 1908, Galeton has been a leading supplier of fine quality work gloves and personal protective equipment at great prices for manufacturing, commercial industry, construction, contractors , as well as federal, state and local government facilities. Built around its unique product line and legendary customer service, the company continues to expand to meet the growing needs of its customers.
The Galeton catalog and website offer a wide variety of work gloves ranging from premium quality to economy plus a broad selection of exclusive brands and unique products.  The expansive offering also includes rainwear, high visibility work wear, work boots, disposable apparel, safety glasses, hard hats, respiratory & hearing protection, as well as other personal protective equipment all designed to help keep the worker safe, comfortable and productive on the job.  
For more information, visit www.galeton.com.