Clamp-Rite Introduces a New Line of Pneumatic Toggle Clamps
Clamp-Rite is expanding its value-focused line of manual toggle clamps to include new pneumatic toggle clamps. Ideal for quick clamping in repetitive production applications, these versatile clamps are fully automatic, and offer hands-free operation to increase productivity and safety.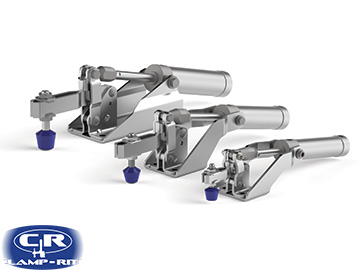 "Due to market demand, we are introducing new pneumatic toggle clamps which are well-suited for applications in the machine workholding and automation industries." says Mark Heacock, sales leader for Clamp-Rite North America.
Clamp-Rite is offering model 17XXX pneumatic toggle clamps in a variety of cylinder sizes. These pneumatic hold-down clamps are ideal fast-acting tools for securing materials repetitively, and without operator interface.
These new versatile clamps provide answers for those seeking value priced pneumatic clamps. The clamp bases feature industry standard mounting patterns for compatibility with existing equipment.
About Clamp-Rite
Clamp-Rite provides customers with versatile, cost-effective toggle clamping technology for a wide range of industries and applications. By focusing its resources on the most popular clamping styles and sizes, Clamp-Rite offers users unmatched value. Clamp-Rite products are manufactured to industry standards using quality materials and craftsmanship. Clamp-Rite's global presence and vast distribution channel results in local off-the-shelf availability.
For more information, visit www.clamp-rite.com.