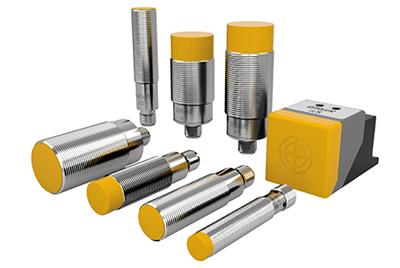 Norstat now offers the PI-Safe a complete range of sensors for non-contact, safe detection of metal objects.
PI-Safe sensors can generally be installed in applications that require a non-contact sensor for the safe detection of metal objects. Applications include reliable positioning on rotary indexing tables and machine tools, safe triggering of slow travel as well as switching off at an end position for presses, gantry robots or actuators. Faults such as coil breaks or coil short circuits are self-diagnosed switching the sensor into a defined safe state. Their non-contact, wear-free operation also guarantees a longer life span as well as low maintenance costs.
The PI-Safe is available in a variety of models, shapes, sizes, and mounting options. Construction is stainless steel for the body and PBT for the heads. Output is 2x OSSD, display is via LED's for operational status and fault detection and Connection is via a M12 4 pole connector. These robust sensors are protection class III, carry a protection rating of IP 65 & IP 67 and can operate in temperatures from -25°C to +70°C. Contact Norstat, Inc for additional information, price, and availability.
About NORSTAT
Since The early 1960's, Norstat has been servicing the industrial automation marketplace by offering safety, automation and connectivity solutions to the machine, process control, robotic, and automation industries with a complete line of safety, control, automation and connectivity products. Our trained engineering staff at our Rockaway, NJ headquarters as well as our numerous representatives out in the field can offer expert solutions for all of your safety, automation, and connectivity requirements.
Norstat's goal is to provide our customers and sales organization the most comprehensive, synergistic, and state of the art program of Safety, Automation and Connectivity products available as well as provide the best possible solutions for their application requirements. We accomplish this task through an engineering and sales staff that is comprised of the best and the brightest personnel available. We strongly believe that Norstat has the products, knowledge and experience to support our customers and be the "Source for all your Safety Automation and Connectivity" needs.
SUBSCRIBE to our Complimentary Publications: