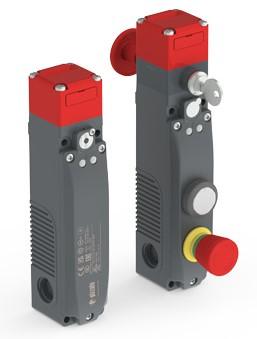 Norstat now offers the FY SERIES Safety Switch. A rugged, lightweight safety switch with separate actuators and lock.
The FY SERIES is a safety switch that features a separate actuator ( 4 types available ) with lock in a lightweight yet rugged housing for applications that don't require the mechanical strength of a metal housed safety switch. These switches have actuator heads that can be rotated 90° to align all four sided of the switch to fit most any application and can operate with the solenoid in either an energized or de-energized state.
The FY SERIES features a glass fiber reinforced technopolymer, self-extinguishing, shock proof housing with the head and release device both made of metal. These switches come with 3 knock-out threaded conduit entries, signaling LED's and are available with 30 different contact block configurations. They have a maximum holding force of 2800 N and safety levels up to SiL 3 and PLe. Contact Norstat for additional information, pricing, and availability.
About Norstat
Since The early 1960's, Norstat has been servicing the industrial automation marketplace by offering safety, automation and connectivity solutions to the machine, process control, robotic, and automation industries with a complete line of safety, control, automation and connectivity products. Our trained engineering staff at our Rockaway, NJ headquarters as well as our numerous representatives out in the field can offer expert solutions for all of your safety, automation, and connectivity requirements.
Our SAFETY program includes Safety Light Curtains, Muting Light Curtains & Safety Controllers, Safety Interlock switches, Non-Contact Safety Switches, Safety Relays as well as Optical and Audible Signaling Devices. Our AUTOMATION program consists of Sensors for Pressure, Vacuum, and Positioning, Photoelectric & Ultrasonic Sensors, Foot Switches, Limit Switches both IEC body and Miniature types for axis control as well as a full line of Push Buttons, Panel Mount Switches, Buzzers and Emergency Stop Switches. Our CONNECTIVITY program features DIN Connectors for Sensors and Solenoid Valves, M8/M12 Connectors for Sensors and Switches, Passive & Smart Distribution Boxes, Automotive Connectors ( D-Type ) as well as a full range of special connection solutions that can be custom designed to fit most any application. This complete program enables our customers to conform to both the domestic and international machine safety and compliance standards along with the knowledge that Norstat supports their products with a friendly and experienced customer service team.
SUBSCRIBE to our Complimentary Publications: