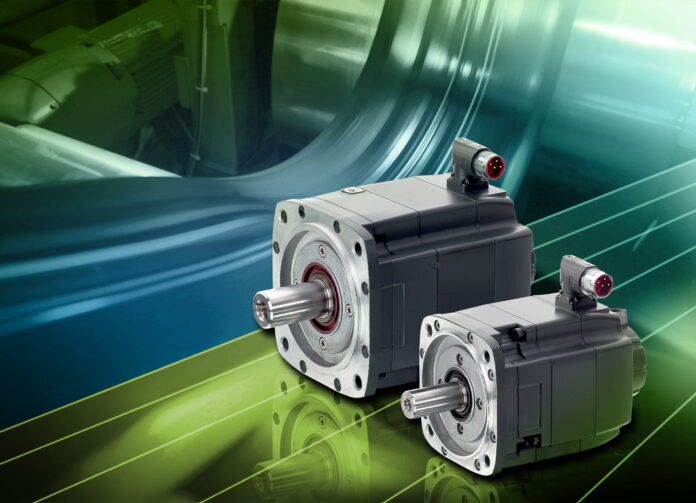 Siemens Industry, Inc. has announced that it is expanding its popular 1FK7 servomotor family, with the introduction of a new high-inertia style. The higher rotor inertia of this design makes the control response of the new 1FK7-HI servomotors highly robust and suitable for high- and variable-load inertia applications, including the feed and auxiliary axes on machine tools, as well as winders and unwinders on converting, packaging and printing equipment.
These self-cooled 1FK7-HI servomotors provide stall torque in the 3 Nm to 20 Nm range and are offered in IP64 or IP65 with IP67 flange degree of protection, with selectable options for plain or keyed shaft, holding brake, 22-bit incremental or absolute encoders, as well as 18 color options.
A mechanical decoupler between the motor and encoder shaft protects the encoder from mechanical vibrations, providing a long service life. In cases where the encoder needs to be exchanged, the device automatically aligns the encoder signal to the rotor pole position, enabling feedbacks to be changed in the field in less than five minutes.
These new Siemens 1FK7-HI servomotors also feature the unique Drive-Cliq® serial bus and electronic nameplate recognition, allowing virtual plug-n-play operation when paired to the Sinamics® S drive platform. All servomotors in this new line are also configured to interface with Siemens Sinumerik® CNC technology for machine tool applications and the motion controller Simotion® for general motion control use.
Selecting the proper motor to suit the application is facilitated by the Siemens Sizer® toolbox and compatible 3D CAD model-generating CAD-Creator package.
About Siemens Corporation
Siemens Corporation is a U.S. subsidiary of Siemens AG, a global powerhouse focusing on the areas of power generation and distribution, intelligent infrastructure for buildings and distributed energy systems, and automation and digitalization in the process and manufacturing industries. Through the separately managed company Siemens Mobility, a leading supplier of smart mobility solutions for rail and road transport, Siemens is shaping the world market for passenger and freight services. Due to its majority stakes in the publicly listed companies Siemens Healthineers AG and Siemens Gamesa Renewable Energy, Siemens is also a world-leading supplier of medical technology and digital healthcare services as well as environmentally friendly solutions for onshore and offshore wind power generation. For more than 160 years, the company has innovated and invented technologies to support American industry spanning manufacturing, energy, healthcare and infrastructure. In fiscal 2018, Siemens USA reported revenue of $23.7 billion, including $5.0 billion in exports, and employs approximately 50,000 people throughout all 50 states and Puerto Rico.
SUBSCRIBE to our Complimentary Publications: