Exide Technologies Launches New GNB® Marathon FPX™ Premium Flat Plate Battery for Motive Power Applications
Exide Technologies (www.exide.com), a global provider of stored electrical energy solutions, today announced the availability of the GNB® Marathon FPX ™ Premium Flat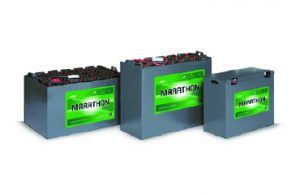 Plate battery for motive power applications. The Marathon FPX™ is available for purchase through Exide authorized GNB-branded product dealers across North America.
The Marathon FPX™ flat plate battery is designed for medium-to heavy-duty industrial use and designed  for opportunity charging applications. Significant investments in process enhancements and a new flat plate grid design ensure the Marathon FPX™ delivers premium performance and extended durability. Designed to increase productivity and battery life, the Marathon FPX™ has the industry leading flat plate cycle performance (1600 or 5 years) warranty.
Other prominent features include:
Up to 10% more active material and higher paste density enables a robust design to meet demanding operating conditions
Charged on state-of-the-art Inbatec equipment to protect plate integrity and increase performance and cycle life
Improved plate curing process for stronger paste cohesion
Increased antimony alloy level for extended cycle life
Optimized acid gravity for lower corrosion and longer cycle life
"The Marathon FPX™ provides exceptional value to end users," said Ted Becker, Senior Vice President, Sales, Marketing and Service for Exide Technologies. "Supported by an industry-leading, 1600 cycle warranty, this new product is an attractive alternative to competitive flat plate designs. The FPX offers opportunity charging capabilities, enhanced durability and reliable power to lift trucks operating in the demanding material handling and warehousing industries."
"Exide is committed to making continual improvements to product performance through new designs and capital investments in manufacturing processes and equipment," said Vic Koelsch, President and CEO of Exide Technologies. "Our commitment allows us to deliver new products like the Marathon FPX ™ to meet the needs of the material handling industry."
More information about the GNB Marathon FPX ™ battery is available at www.exide.com or at 1.888.563.6300.
About Exide Technologies
Exide Technologies (www.exide.com) is a global provider of stored electrical energy solutions—batteries and associated equipment and services for transportation and industrial markets.  With 128 years of industry experience and operating in more than 80 countries, Exide produces and recycles a broad range of products that keep customers and their businesses powering forward.
The Exide Transportation business manufactures and markets starting, deep-cycle, and micro-hybrid batteries for automotive, light and heavy-duty truck, agricultural, marine, military, powersport, and other specialty applications, along with battery diagnostic equipment and charging systems. 
Exide serves the Industrial Power markets with its GNB®-branded efficient energy storage systems for both Motive Power and Network Power customers.  Motive Power applications include materials handling (power for lift trucks, airside assistance vehicles, and automatic guided vehicles); cleaning machines; railroads; military and mining vehicles; and other commercial electric vehicles.  Network Power installations include standby power for electric utilities; telecommunications systems; alarm/security systems; renewable energy systems; railway systems; uninterruptible power supply (UPS); and defense industry equipment.
Exide Technologies is Powering the World Forward.  History and scale, combined with a start-up mentality, make Exide the right choice for customers who want more than simply a battery supplier.