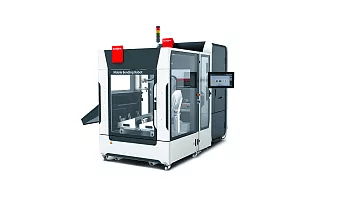 With the Mobile Bending Cell, Bystronic takes the next evolutionary step in the field of bending: a mobile automation module for the ByBend Star 40 press brake. The result is a compact solution for automated as well as manual bending.
A NEW design and a new drive system ensure energy-efficient and dynamic bending processes. ByMotion drive control guarantees a finely tuned interplay between speed, precision, and power. This bending system is unique and it provides users with high application versatility. Users can process large lots with the automated bending cell and bend small lots or individual parts manually when necessary. Just plug in and start bending.
For many users, bending still means producing small to medium-sized parts on press brakes that are too large. This limits them because processing bending parts on presses that are too large cost time, space, and sometimes also quality. For parts of up to about 4.92 feet bending length and a maximum thickness of 0.79 inch, these users do not need a large-scale bending station, but rather a small and versatile powerhouse.
The BySoft CAM Robot software enables simple programming in combination with the bending software BySoft Cell Control Bend. Whether it's manual or automated – the intuitive operation makes bending convenient on your press brake.
Programming is also possible offline. Users can create all bending orders offline using the BySoft CAM software.
The robotic system on the Mobile Bending Cell can be set up in just a few minutes. Just roll the automation unit in front of the press brake. With a few simple steps, the robotic system at the center of the Mobile Bending Cell automatically aligns itself with the press brake. This popular setup also offers flexible tool selection and integrated tool storage and is movable to where it is needed when it is needed.
Customer Benefits
Control is seamlessly integrated into the press brake user interface.
Manual bending of small lot sizes and individual parts by day.
Automated bending of large lot sizes by night.
High-speed 6-axis back gauge control and multi-axis ram control.
Automatic tool clamping, interference checking, and tool overload protection.
Intuitive ByVision Bending interface with 22 in.HD touch screen
Convenient and adaptable ergonomic workspace is adjustable and retractable as needed.
Set up and operate in virtually any environment in just a few minutes.
Mobile Bending Cell automatically aligns itself with the press brake. Just plug in and start bending.
During FABTECH, stop by our Booth A1326 for ongoing demonstrations of the Mobile Bending Cell 40.
Bystronic. Your best choice.
SUBSCRIBE to our Complimentary Publications: